The "missed" three million
TB is curable, but our current efforts to find, treat and cure everyone who gets ill with the disease are not sufficient.
Of the nine million people a year who get sick with TB, a third of them are "missed" by public health systems.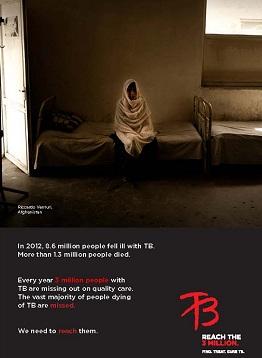 Many of these three million people live in the world's poorest, most vulnerable communities and include groups such as migrants, miners, drug users and sex workers.
We believe that no one should be left behind in the fight against TB. This World TB Day, we call for a global effort to find, treat and cure the three million and accelerate progress towards zero TB deaths, infections, suffering and stigma.
To reach the three million we need to aggressively scale up TB programmes and ensure access and coverage for all, especially for the most vulnerable groups and in areas most heavily affected by the diseases - the TB 'hotspots'.
We must invest in basic research and research and development for new tools - diagnostics, drugs and vaccines - in order to reach people faster, treat them more quickly and ultimately prevent them from becoming ill with TB.
If we are successful we can ensure that we meet the Millennium Development Goals and start to talk realistically about eliminating TB as a public health problem in the next two decades.
This World TB Day, people all over the world, from TB programme managers to frontline health care providers will make a call to Reach the three million and ensure that everyone suffering from TB has access to adequate TB care, including diagnosis, treatment and cure.