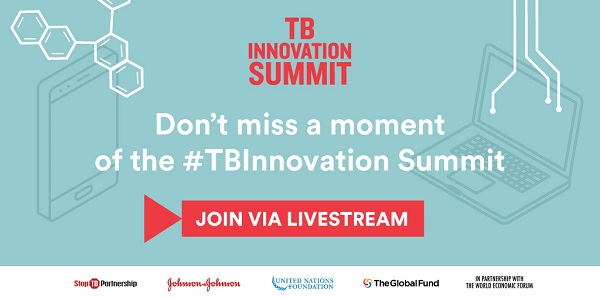 Please note only those with an RSVP and e-mail confirmation can attend due to an overwhelming response.

In the lead-up to the first-ever United Nations High-Level Meeting on Tuberculosis (UN HLM), the Stop TB Partnership, Johnson & Johnson, UN Foundation, Global Fund to Fight AIDS, Tuberculosis and Malaria, and the World Economic Forum will be co-hosting a TB Innovation Summit.
The event will convene a unique mix of leaders from the private and public sector, including TB survivors, academics, civil society and community leaders, donors, and technical partners, to discuss the important role that innovation can – and must – play in delivering the current tools we have today, developing the next generation of solutions we need for tomorrow, and, ultimately, driving progress toward our shared goal of ending TB.
The TB Innovation Summit will be forward-looking, uplifting, and solutions-oriented. While the task of ending TB may seem daunting, our goal is to show the world now why it is achievable if we work together in new, positive, and innovative ways. That is why the tagline for our event is "Our Journey to End TB Begins Now."
The event will also provide a platform for companies and organizations to announce new commitments for TB ahead of the UN HLM. Specifically, we anticipate announcements of new R&D funding for drugs, out-of-the-box partnerships across sectors, and new initiatives to catalyse and support current and future entrepreneurs and innovators engaged in the TB and antimicrobial resistance (AMR) space.
The current program can be found here. Approximately 200-250 delegates from across a range of sectors will attend the TB Innovation Summit, all of whom are involved with or have a strong interest in global health.
For specific questions about the event, please email Jacqueline Huh, Team Leader at the Stop TB Partnership, at jackieh@stoptb.org.
Please note that RSVP is required.
Thank you for your support in our collective vision to end TB.
Click to RSVP