Kochon Prize Deadline extended to 7 September 2018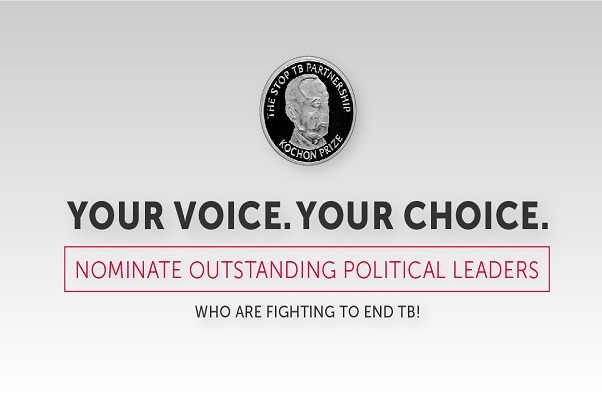 The Stop TB Partnership's Call for the 2018 Kochon Prize Nominations for Political Leaders fighting to End TB!
31 August 2018 | GENEVA - Stop TB Partnership is extending the deadline for the 2018 Kochon Prize Call for nominations to 7 September 2018.
Following the United Nations High-Level Meeting (UNHLM) on TB, the 2018 Kochon Prize will be awarded to the political leaders who show vision, leadership, commitment and are driving change and taking bold actions to End TB.
Who can be nominated
Individuals cannot nominate themselves. They must be nominated by individuals (other than themselves) or organizations.
Nominees can be individual political leaders holding one of the following positions:
Head of State / President / Prime Minister;
Member of Parliament;
Minister of Health or any other Minister
Application Period
The online nomination form found here must now be completed no later than Friday, 7 September 2018 at 18:00 (Geneva time).
Full details regarding the nomination process and requirements can be found here. Nominations should include:
A nomination form
Support letter from the nominator
An additional support letter from another organization or individual other than the nominator is not mandatory but can be included in the nomination process.
Funded by the Kochon Foundation, a non-profit foundation based in the Republic of Korea, the USD 65,000 prize - the most significant prize devoted to TB - is awarded once a year to an individual/s and/or organization/s according to the criteria of the Call.
The 2018 Kochon Prize winner(s) will be announced and awarded during the 49th UNION World Conference on Lung Health, The Hague, The Netherlands, 24-27 October 2018.
Let's recognize those that use their political "weight" to help us End TB!