WHO's Rapid Communication on Treatment of Multidrug- and Rifampicin-Resistant Tuberculosis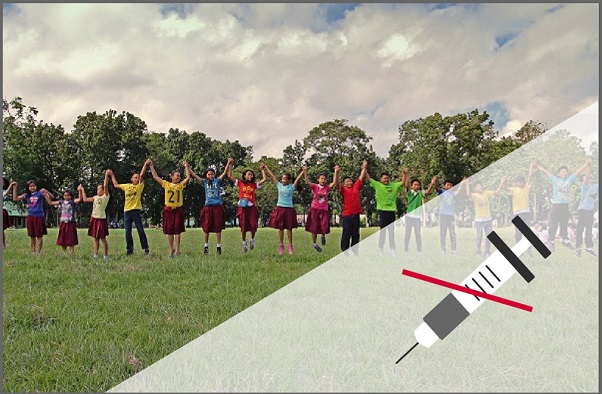 Stop TB Partnership's Statement On Implications for TB Programmes
22 August 2018 | GENEVA - The Stop TB Partnership welcomes the World Health Organization's (WHO) release of a Rapid Communication: Key changes to the treatment of multidrug- and rifampicin-resistant tuberculosis (MDR/RR-TB). The changes are based on recommendations of the WHO Guideline Development Group which met in July 2018.
The new rapid communication marks the first time in history that WHO recommends injection-free regimens for the treatment of MDR-TB. This new WHO announcement follows shortly after a bold move by the government of South Africa to adopt a nation-wide transition to the injectable-free treatment of DR-TB.
WHO's rapid communication aims to provide information and advice on immediate steps to be taken to ensure that people with MDR/RR-TB receive treatment in accordance with the latest evidence on the effectiveness and safety of the medications available.
The full guideline update is expected to be released later in 2018.
1. Timeliness of the announcement
WHO's announcement is timely as heads of state, government ministers, parliamentarians, UN leaders, civil society, TB community representatives, the private sector, academics and many others prepare to attend the first ever United Nations High-Level Meeting on TB in September 2018.
The meeting is expected to endorse a Political Declaration that includes ambitious milestones and targets, including expectations to diagnose and treat at least a cumulative number of 1.5 million people with MDR-TB by the end of 2022.
2. Main changes recommended
The rapid communication calls for a re-grouping and reprioritization of the medicines used to treat MDR/RR-TB, including:
Kanamycin and capreomycin are no longer in the regimen to treat MDR/RR-TB;
Bedaquiline and linezolid (together with levofloxacin or moxifloxacin) have been upgraded and prioritized in the regimen to treat MDR/RR-TB;
The new, all-oral, regimen for MDR/RR-TB treatment is less toxic, more efficacious, and reduces the need for hospitalization; and
In the shorter regimen for MDR/RR-TB, kanamycin and capreomycin should be replaced with amikacin (or bedaquiline under operational research conditions).
3. Main implications
The WHO changes have huge and significant implications for all people with MDR-TB - a vast majority of which will benefit, for the first time, from an injection-free regimen with fewer side effects.
These changes also have implications for national TB programmes - on planning (several areas but especially in procurement and supply), human resources, financing, implementation and monitoring of the TB response. WHO advises countries to rapidly adjust their national treatment policies, drug procurement plans and monitoring system to quickly switch to the new priority regimens. As it is not possible to effect these changes immediately, national TB programmes should immediately develop transition plans to address these critical issues.
PLEASE NOTE: Lead times for new medicine orders are up to 6 months from the time orders are finalized.
A. Changes in demand for medicines used in new MDR-TB regimens
The rapid communication will dramatically impact the demand for most medicines used to treat MDR-TB as portrayed in Table 1 below.
B. Changes in prices for new MDR-TB regimens
The new, all oral, 20-month MDR-TB regimens range from US $1,600* (using bedaquiline and linezolid for 6 months and levofloxacin as the fluoroquinolone) to US $2,100* (using linezolid for 12 months and moxifloxacin as the fluoroquinolone). See below Table 2 with price estimations for newly recommended MDR-TB regimens, based on Stop TB`s GDF Medicines Catalog and prices. For more details, please contact gdf@stoptb.org.
PLEASE NOTE: These new all-oral regimens are approximately 2- to 3-times more costly than the previously recommended longer regimens for MDR-TB (StopTB GDF Announcement on Price Reductions June 2018).
C. Changes in TB diagnostics
The new WHO rapid communication will require expanded laboratory capacity given the critical role that drug-susceptibility testing (DST) plays in ensuring patients are put on the most effective treatment regimen. Stop TB`s GDF provides a wide range of diagnostic equipment and laboratory supplies in its Diagnostics Catalog. Key diagnostic messages from the new rapid communication include:
Capacity for culture DST methods and line probe assays for second-line drugs require further scale-up. This entails a comprehensive set of interventions including:


Procurement and installation of necessary testing equipment and supplies;
Infrastructure improvements to ensure biosafety;
Training of technicians on new DST testing methods; and
Strengthening of specimen referral systems to allow for the efficient, centralized testing of patient samples and the rapid return of results.

Demand for pure drug substances is expected to increase in line with medicines demand (Table 1) as countries develop the capacity to perform DST for these drugs.


Stop TB's GDF supplies several quality-assured pure drug substances for laboratory use, including pure powders of first- and second-line drugs as well as pre-made lyophilized vials for use in the BACTEC MGIT systems. The substances and vials offered will be expanded to accommodate WHO's new recommendations.

Next-generation sequencing offers substantial advantages and going forward will support more rapid detection of resistance to key medicines.


Stop TB's GDF will work closely with developers and WHO to offer sequencing equipment and supplies as they become WHO-recommended.
4. Possible next steps for programmes
Stop any new orders for kanamycin and capreomycin
Begin developing phase-out and phase-in plans, including:


Quantify existing stocks of MDR-TB medicines currently used
Determine the programme's approach to adopting new recommendations (e.g., move towards the new 20-month regimen, continue use of the shorter regimen, or a mixed approach)
Quantify the needs for the new products in the new regimens
Identify funding sources to procure the new products

Identify and develop a plan to address other programmatic considerations including:


Updating of national treatment guidelines
Training of providers
Stop TB Partnership's GDF Support
Stop TB's GDF continues to serve as a one-stop shop for TB medicines and diagnostics.
All country programmes are eligible to access quality-assured medicines and diagnostics from GDF.
What we offer:
Lowest available prices on the market for quality-assured products;
Shortest lead times for medicines of any supplier because Stop TB`s GDF holds a physical stock of TB medicines in GDF's Strategic Rotating Stockpile;
Support to national TB programmes with quantification and supply chain management to expedite the phase-out of older regimens and phase-in of new regimens - as with the launch of other new tools;
Provision of regular, updated medicines forecasts to suppliers to guide production planning and product lifecycle management;
Support for national registration of medicines included in the new WHO recommendations; and
Access to concessional prices for TB diagnostics.
Table 1. Expected changes in demand for medicines used to treat MDR-TB**
**Expected trends for other medicines (i.e., ethambutol, amikacin, delamanid) are unclear.
Table 2. 2018 GDF estimated prices* for new MDR-TB Regimens

*Weighted average according to volumes allocated to suppliers in 2018 tender
** As per WHO recommendations on operational research
For more information, please contact gdf@stoptb.org.