Global Drug Facility Update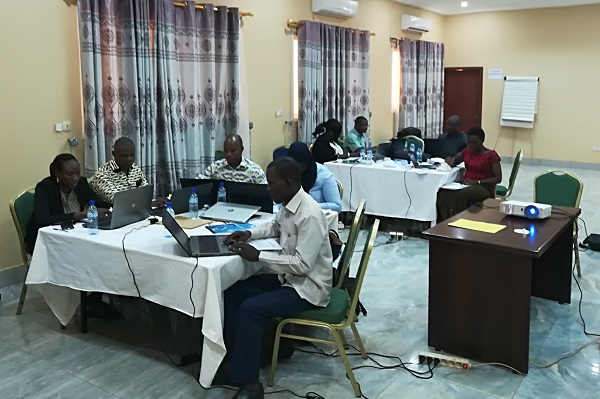 Missions in November and December 2017
Stop TB Partnership's GDF Workshop Innovative Procurement and Supply Management to End TB
4 - 8 December 2017 / Ouagadougou, Burkina Faso
Ensuring an uninterrupted supply of quality-assured, affordable anti-TB medicines and diagnostics to populations in need is the goal of the Stop TB Partnership's Global Drug Facility (GDF). To achieve this goal, GDF provides coordinated and tailored technical assistance and capacity building to address countries' supply chain challenges. Burkina Faso, a country in the West Africa region, is receiving financial support from the Global Fund (GF) to fight TB, among other diseases. This support has enabled the country to improve pharmaceutical management for TB commodities through the revitalization of the national Procurement and Supply Management (PSM) Committee, a joint body for HIV/AIDS and TB programs. In this regard, the National Tuberculosis Program (NTP) and GF requested technical support from GDF to strengthen the capacity of the PSM committee and other NTP relevant stakeholders in quantification and supply planning for TB medicines. The main purpose of this workshop was to introduce innovative PSM practices for TB medicines in Burkina Faso, and to ensure earlier and rational uptake of new TB tools. In total, 13 participants from the central level attended the five-day workshop facilitated by two GDF consultants.
Accomplishments from this workshop include the following:
Quantification results for first-line (adult and pediatric), second-line (DR and XDR-TB) medicines; and for preventive therapy. The outputs from QuanTB were analyzed, and participants were able to analyze the summary report and dashboard; to identify each medicine stock status according to defined parameters, such as lead time, minimum and maximum stock levels, as well as early warning signs on the QuanTB dashboard; and discuss appropriate corrective measures for each situation.
An action plan was developed to follow up on the recommendations of the workshop and execution of activities (with responsibilities, resources needed and timeline) focusing on QuanTB and early warning system (EWS) implementation, data collection and reporting systems, the data sharing process, further technical assistance and capacity building required in coordination with the national PSM committee, NTP/Ministry of Health (MOH) and GDF.
With this process in place, the NTP and key partners including GDF will be able to monitor QuanTB implementation, and follow up with the results and impact on the TB pharmaceutical management in the country following this workshop. The country is committed to regularly sharing quantification information with GF and GDF.
GDF TA Mission to Zambia
20 November - 1 December 2017 / Zambia
The Stop TB Partnership/GDF technical assistance (TA) mission to Zambia was conducted from 20 November to 1 December 2017. The overall objective of the TA mission was to strengthen the country's capacity to ensure timely, equitable access to quality-assured TB medicines and diagnostics, including new TB medicines and regimens, as well as ensure the sustainability of TB commodities' supply. Zambia is among the countries making good progress in the implementation and scale-up of new tools. The program started scaling up the short-course DR-TB treatment regimen (STR) in October 2017. At the time of the mission, 13 patients were already enrolled. Plans for introduction of Bedaquiline and Delamanid were underway, with Bedaquline already in the country and Delamanid expected to be ordered in early 2018. The child-friendly pediatric medicines had already been delivered at the time of the mission and roll out was expected to commence in December 2017. The mission recommended a review and dissemination of recording and reporting tools with an emphasis on including drug-resistant (DR-TB) patients' enrolment by regimen and ensuring that this data is available routinely to support quantification and monitoring.
To prepare for the implementation of new medicines, the development of an active Drug Safety Monitoring framework to support implementation of the new DR-TB medicines was in progress with support from the USAID-funded Challenge TB Program. The reporting forms have already been developed. Finalization of the framework and implementation in select facilities is planned under the next steps.
The mission also observed that the government of Zambia has plans to support procurement of TB medicines as part of a co-financing requirement. For 2018–2020, the government is expected to cover treatment of 26% of drug-sensitive TB cases and 40% of drug-resistant TB cases, while the rest of the needs will be met by the Global Fund. For the year 2018, the government has already set aside USD $2.2 million for the procurement of TB medicines.
Limited partner support for PSM at NTP was identified as a challenge. The GDF mission held a meeting with USAID and the Eradicate TB Program to advocate for increased partner support for PSM at NTP. The Eradicate TB Program committed to work closely with NTP to support supply chain capacity at the central level for TB medicines and laboratory commodities, and address data collection gaps in Isoniazid Preventive Therapy. Other challenges observed were inadequate quantification capacity for lab commodities and delays in initiating the procurement process that resulted in stock-outs of GeneXpert cartridges and solid culture reagents, and low stock levels of N95 masks. To address these challenges, capacity building for quantification and stock status monitoring for laboratory commodities was recommended.
GDF TA Mission to Uganda
26 November - 8 December 2017 / Uganda
The Stop TB Partnership/GDF, jointly with the Green Light Commission (GLC), conducted a TA mission to Uganda from 26 November to 8 December 2017. During this mission, GDF provided TA to the country in the review of quantification data for both TB medicines and laboratory commodities, assessing the current procurement and supply chain management system, as well as progress made in the implementation of new tools. The following were the key findings:
High government commitment to support procurement of TB commodities. For 2018 - 2020, almost 29% of the first-line TB medicines' (FLDs) procurement budget is expected to be covered by the government of Uganda. The government also allocates funds (5 billion Uganda shillings) every year for the procurement of laboratory commodities, including a few select TB commodities.
Ongoing efforts to increase DR-TB case detection and enrollment in treatment. In 2016, the number enrolled in treatment increased to 380 cases from 259 in 2015, equivalent to a 46% increase. More ambitious DR-TB targets have been set for 2018–2020, with expanded access to Xpert services being one of the factors expected to increase DR-TB case detection. In view of this, the GDF mission emphasized the need to effectively implement the EWS in order to ensure an uninterrupted supply of TB medicines and early detection of potential wastage in case the current targets are not achieved.
The country started rolling out the new pediatric formulations in September 2017. In addition, new medicines such as Bedaquiline have also been adopted and are being used in managing DR-TB cases, while preparations for the introduction of the shorter DR-TB regimen were at the final stage during the visit. Following the GDF/GLC mission recommendation, the country made a decision to adopt the use of Delamanid. However, more funds need to be mobilized, as Delamanid was not included in the 2018 - 2020 grant application that was recently approved by the Global Fund.
Despite several achievements, the mission observed a funding gap for the 2018 - 2020 FLD procurement budget. An additional funding gap was observed for the procurement of laboratory commodities, with nearly 70% being contributed by GeneXpert cartridges. However, efforts were being made by the MOH with support from key stakeholders such as USAID to mobilize additional resources. Long in-country procurement approval processes and delayed processing of import permits were also identified as key challenges that have contributed to the unstable supply of TB medicines in Uganda. To address these challenges, jointly with the national TB program, GDF held several consultative meetings with the Ministry of Finance/GF Principal Recipient, partners and various MOH institutions such as the National Drug Authority, National Medical Stores and MOH/Department of Pharmacy, as well as debriefing meetings with the director of health services of MOH, NTP/partners and the USAID mission, where commitments were made to ensure in-country procurement lead times are reduced as much as possible and various strategies on how to address other identified challenges were agreed upon.