Stop TB Partnership's Concrete Support in the Fight to Tackle AMR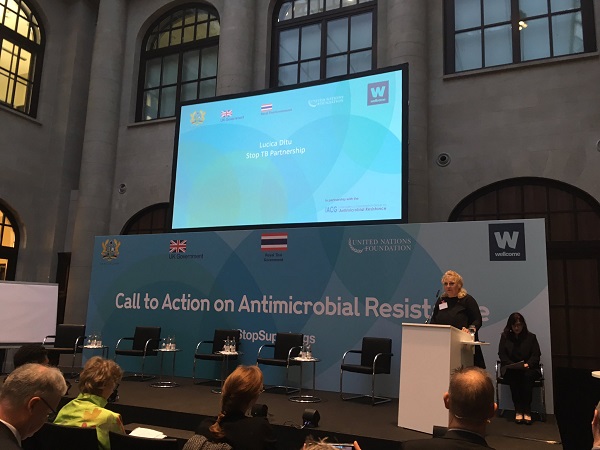 30 November 2017 - Geneva, Switzerland - The Wellcome Trust has released the "Call to Action on Antimicrobial Resistance" post-event report, which can be found at https://wellcome.ac.uk/sites/default/files/call-to-action-on-antimicrobial-resistance.pdf.
At the event, which was held from 12-13 October in Berlin, Germany, Executive Director of the Stop TB Partnership, Dr Lucica Ditiu, who was one of the keynote speakers, pledged our support to the overall fight on AMR, especially given that deaths through drug resistant TB represent 30% of overall deaths due to AMR. As a first and initial commitment to this fight, the organization will develop and launch a web-based global AMR database. With seed funding from USAID, the database will be a common good resource and unveiled in early 2018.
Currently, the AMR database has captured information on over 130 initiatives according to the following categories: disease area (e.g., AMR, specific disease areas such as TB, HIV, malaria); focus area (e.g., advocacy, financing, policy, product development, stewardship, surveillance); product category (e.g., vaccines, diagnostics, drugs, digital health solutions); geographic focus (e.g., low, middle, high); and one health approach (e.g., environment, animal, human).
From the initial analysis of the database, it is interesting to note that the preliminary findings show that funding for the AMR initiatives predominantly come from the EU, UK and US, in addition to:
Most advocacy and policy initiatives focus on high-income markets, whereas technical assistance is predominantly provided to low- and middle-income countries. Most stewardship and awareness initiatives focus on high-income markets or Asian countries.
R&D tends to prioritize diseases affecting high-income markets.
Of the initiatives that focused on a specific product category, over 50% are focused on drugs, and approximately 33% on diagnostics. Very few are focused on vaccines or digital health solutions.
Around 50% of the initiatives are focused on product development, mostly on pre-clinical and clinical trials. Only 1 initiative supports product roll-out.
Level of engagement specifically related to TB and DR TB is fairly low.
While policy-based initiatives generally take a "one health" approach, others are mainly concerned with human health. Funding bodies are almost exclusively centered on AMR in humans.
Stop TB Partnership welcomes all stakeholders engaged in the AMR space to collaborate with us on the further development and launch of the web-based database. For more information, please contact Ms Jackie Huh, Team Leader, Strategic Initiatives & Innovative Financing, at jackieh@stoptb.org.