Global Drug Facility Technical Assistance Update September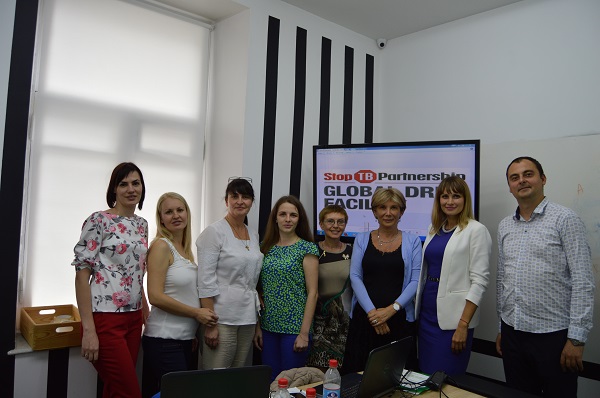 Tanzania 21 to 30 August
Stop TB Partnership's GDF technical assistance to countries includes capacity building for improved TB products management and specifically on use of the QuanTB tool to enhance quality of quantifications/supply planning and as an early warning system (EWS). The National Tuberculosis Programme in the United Republic of Tanzania stands as one of the beneficiaries of these supports especially as they have one of the regional technical advisor based in the country. In August 2017, a joint GDF and Green Light Committee mission was conducted to the country.
During the grant making process and with support from GDF the country was able to use the QuanTB Early Warning System to its advantage and some of the benefits include:
Easier and less tedious quantification process conducted for 2018 - 2020
Cancellation of excess orders worth 15,000 USD to avert wastage
Order placement for medicines that were low in stock
Improving the quality of transition to shorter MDR-TB treatment regimen
Generation of well-structured supply plan to guide procurement

Beyond the QuanTB EWS, the program received advice on different aspects of the TB supply management system including options to optimize the national laboratory supply chain. The overall benefit is that the management of medicines based on informed decision-making has been enhanced and commodity security which is necessary for effective control of Tuberculosis in the country can be attained.

Botswana 4 to 15 September

The government of Botswana provides all medicines and diagnostic services free of charge to its citizens. Botswana health products delivery system managed by Botswana Courier Services is very efficient as deliveries to health facilities are attained in two to three days.

During the 2017 Botswana National Joint Program Review of HIV, TB, STI, CHBC and Hepatitis Health, Stop TB Partnership's GDF provided leadership in the area of procurement and supply management of health products.

GDF observed a gap in the rational use of paediatric TB formulations as the paediatric formulation in use by the country offers inadequate doses for the treatment of TB in children. Also the new TB medicines (Bedaquiline and Delaminid) used for the treatment of resistant TB had not been included in the essential medicines list (EML) recently updated in June 2017. As a policy, Botswana only procures medicines included in the EML except where a registration waiver has been obtained.

Following this, the GDF created awareness on the availability of new, optimized child-friendly TB formulations and the need to phase out the old TB paediatric formulations.

In addition, the country has been advised to update the EML and standard treatment guidelines to include the newly optimized paediatric TB medicines and new TB medicines for the treatment of MDR-TB so it can be easily funded by the government and accessed. The introduction of these medicines is expected to bring about a better health outcome for the citizens.

Ukraine 4 to 14 September

Tuberculosis including MDR-TB continues to be a critical public health threat in Ukraine. The country is included in the WHO's list of the 30 MDR-TB high burden countries for the period 2016 - 2020. The NTP Ukraine requested assistance from Stop TB Partnership's GDF to strengthen TB pharmaceutical management in the country through implementation of a robust quantification and early warning system.

In Ukraine, needs for anti TB medicines procurement is determined by each Oblast (region) TB facility and then merged for centralized procurement. Until very recently, quantification was performed according to the approved "Methodology for TB drugs needs calculations" which is suitable for TB programs where TB treatment is highly standardized. But in line with the introduction of new TB tools, quantification for anti-TB medicines is becoming more challenging because of high individualization of treatment regimens and increased number of cases detected and treated.

GDF Regional Technical Advisor (RTA) worked with the National TB program of Ukraine, and as a result, a new system for quantification and early warning using QuanTB - an electronic quantification and early warning tool was developed, and the team of experts at the central level was trained.

In September the NTP organized three workshops, with eight oblast representatives at each meeting, aimed to prepare regional representatives in use of QuanTB and to conduct quantification and forecasting for 2017 state procurement. The team of trained experts led the workshops under GDF RTA guidance. WHO regional GLC for Europe also supported the NTP and assigned a consultant during the workshops, who monitor quantification under RTA guidance.

Based on the quantification that is being done at the workshops, procurement plan with scheduled deliveries of anti TB medicines will be developed and submitted to the Ministry of Health for 2017 year procurement.

Nigeria 11 to 20 September

STB/GDF technical assistance (TA) mission to Nigeria was conducted from July 11th-20th September jointly with Green Light Committee (GLC) team. During the mission, The STB/GDF consultants provided TA to the country in the review of quantification and supply plan for the first line and second line TB medicines to cover the period from Jan 2018 to June 2019 as part of application for Global Fund (GF) grant extension. The mission also reviewed the progress made in implementation of the MDR TB short course treatment regimens (STR) and roll out of the new pediatric formulations where slow implementation of STR was observed. Medicines for STR were received in the country in April 2017 and the implementation at the time of the mission had started in 8 treatment centers and one state with nationwide scale up planned for January 2018. The mission also observed significant increase in enrollment of patients on MDR TB surpassing the targets (100% above targets in 2016 and annual target for 2017 already met half way the year) leading to rapid depletion of second line TB medicines than eerier planned. The roll out of the new optimized child friendly formulations is scheduled for December 2017 with the medicines expected to arrive in the country by November 2017.

Based on the mission observations, several recommendations were made including the need to ensure continuous monitoring of patient enrollment to prevent stock outs/emergency situations and timely adjustment of procurement plans. The country was also advised to consider applying for consolidated waiver with extended duration of time to avoid future delays in clearing TB medicines from the port of entry as this was a major challenge with recently delivered TB medicines shipments. NTP was also encouraged to expedite countrywide scale up of MDR TB short course regimens to avoid distortion of quantification data and under budgeting if more cases are enrolled on the conventional 20 months regimen than planned. Furthermore, the mission also recommended the need to expedite implementation of the new pediatric formulations roll out plan including review of the recording and reporting tools, treatment guidelines as well as conducting sensitization of healthcare workers at facility level.

At the end of the mission, a detailed debriefing session was held with NTP and partners key among them USAID, WHO and IHVN (Institute of Human Virology Nigeria). High level debriefing session was also held with WHO country representative and the Federal Minister for Health jointly with GLC team.

Following the mission, the revised transition plan for new pediatric formulations was developed by the country and shared with the stakeholders for immediate actions.

Zimbabwe 17 to 22 September

In September 2017, Stop TB/GDF attended 3 regional consecutive meetings: rGLC on 17th, September, 2017, DR-TB workshop on 18th September, 2017 and NTP-HIV Managers Meeting from 19th to 22th, September, 2017 held in Harare Zimbabwe and was able to contribute to round table discussions with GLC team aimed at identifying key challenges contributing to stock outs in some countries and delays in rolling out new tools. A number of challenges were highlighted based on STP/GDF experience in working with various countries. These include inadequate quantification and supply planning capacity, late initiation of procurement process, bureaucratic in-country approval processes, inadequate understanding of GDF procedures, inadequate planning leading to erratic procurement, delayed waiver processing and registrations challenges as well as weak and understaffed PSM systems and lack of functional Early Warning System (EWS) at country level.

In effort to address these challenges, on-going STB/GDF's TA support to the selected priority countries in strengthening procurement and supply management system and accelerating uptake of new tools was shared. GDF TA package and technical approaches were highlighted including plans to recruit additional Regional Technical Advisor (RTA) for Francophone region and expand GDF's pool of trained PSM consultants. At the end of the meeting, several recommendations were made on how to ensure uninterrupted supply of TB medicines and jointly agreed with the GLC team. These include the need to enhance the GDF/GLC collaboration and expand the support beyond the GDF priority countries using GLC resources as approved by the GF representative, need to have annual joint plan for GDF/GLC missions specially in countries where the stock out rate is high, support more regional trainings on quantification and supply planning, need to support implementation of early warning system beyond GDF priority countries and strengthen the PSM systems in collaboration within country implementing partners. The key challenges and proposed solutions were then presented to the TB/HIV Managers meeting as part of resolutions from the rGLC meeting

Upcoming missions in October/November

Myanmar (11 to 20 October): Stop TB Partnership's GDF will conduct Technical Assistance mission to follow up on the recommendations from the last mission conducted in July 2015, as well as review the ordering process ensuring optimized procurement cycle and better stock management profile. A key consideration in this review is to look at the enrolled and expected cases, and program accomplishment vis-à-vis the stock on hand and stock in the pipeline, especially in the light that the program is transitioning to the new TB medicines, regimen and diagnostic tools.
Lesotho (23 October to 3 November): Stop TB Partnership's GDF plans to conduct a mission to support PSM aspects of Program Review and grant making requested by the Global Fund, including transition to new TB medicines, regimen and diagnostic tools.
Gabon (9 to 20 October): Stop TB Partnership's GDF will conduct Technical Assistance mission to assess the PSM system and review the ordering process ensuring optimized procurement cycle and better stock management. A particular attention will be made to the review of the enrolled and expected cases, and program accomplishment vis-à-vis the stock on hand and stock in the pipeline, especially in the light of transitioning to the new TB medicines and regimen.
Burkina Faso (November): Stop TB Partnership's GDF will conduct PSM/Quantification training on QuanTB for the national "quantification committee" and NTP staff.
Kazakhstan (23 October to 1 November): Based on the request of the NTP (the Principal Recipient of NFM TB grant), StopTB Partnership will provide technical assistance through the joint mission of the MDR TB clinical and GDF PSM consultants. Purpose of the mission is to support the NTP to develop a comprehensive plan for introduction and scale-up of new drugs; set up the active TB drugs safety monitoring (aDSM) system within the Global Fund -supported Complex Plan to fight against TB; review existing and develop revised policy papers for anti TB drugs registration, import, and procurement.
Uganda (November): Stop TB Partnership's GDF will conduct technical assistance mission jointly with GLC to assess the country's readiness to implement new optimized paediatric formulations and shorter MDR-TB regimen and address the identified challenges. The specific objectives are to work jointly with in-country stakeholders to map the in-country procurement processes, identify bottlenecks contributing to procurement delays and streamline the approvals processes as well as support the country to initiate early procurement for first line TB medicines based on the identified potential stock outs likely to occur early next year.
Zambia (November); Stop TB Partnership's GDF plans to conduct Technical Assistance mission to Zambia jointly with GLC to review the progress made on the introduction and/or roll-out of new optimized paediatric formulations, shorter MDR-TB regimen and new MDR-TB medicines. The mission will also assess the overall procurement and supply chain management issues, follow up on recently identified challenges including unexpected increase in DR TB enrolment which has led to rapid depletion of second line TB medicines, discuss the urgent need for early procurement under the next GF grant for both first line and second line TB medicines and finalize procurement plan for 2018.
Zimbabwe (November): Stop TB Partnership's GDF Plans to conduct Technical Assistance mission to Zimbabwe jointly with GLC to assess the progress on the introduction and/or roll-out of new optimized paediatric formulations, shorter MDR-TB regimen and new MDR-TB medicines as well as finalize procurement plans for 2018.