Updates from TB2016 and AIDS2016 in Durban, South Africa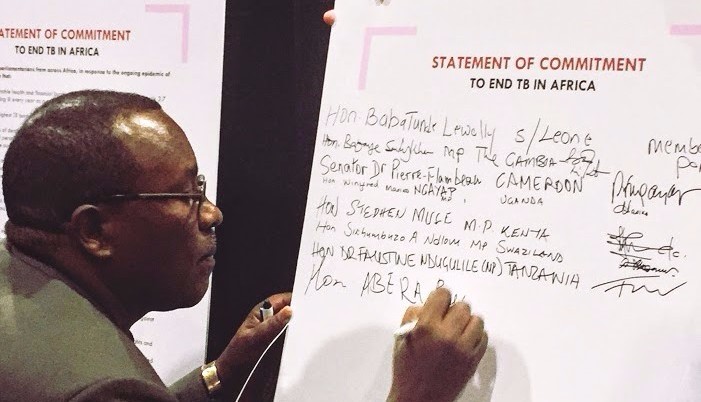 TB 2016
African TB Caucus
Step Up for TB Campaign Launch
South Africa National TB Coalition Launch
South Africa App Launch
1. TB 2016 meeting aimed to emphasize urgency of action in the global fight against tuberculosis & partnership between TB and HIV efforts
16-17 July 2016 - Durban, South Africa - The urgent need to address the global TB epidemic was in focus this weekend in Durban, as TB experts, health professionals, political leaders, civil society, and communities affected by TB convened at the TB2016 conference. TB2016 was coordinated by the International AIDS Society (IAS) and held directly prior to the 21st International AIDS Conference.
"For many countries, including mine, TB and HIV are two sides of the same coin," said Dr. Aaron Motsoaledi, South Africa Minister of Health and Chair of the Stop TB Partnership Board, in the inaugural plenary address for TB 2016. "At the International AIDS Society Conference, my message will be clear: We will not end AIDS without ending TB. We will either succeed or fail together and so working alone is not an option."
During the two days over 1000 participants discussed a range of topics related to TB including the latest scientific discoveries in TB, the agenda for basic and clinical research, how to best involve civil society actors, strengthening community systems, galvanizing political leadership and best practices for advocacy.
"Tuberculosis has climbed the list of major killers because it is at the bottom of the list of political priorities", said Dr. Joanne Carter, Executive Director of RESULTS and Vice-Chair of the Stop TB Partnership Board. "TB2016 is an important step forward in the effort to bring the needed scientific, financial, and political resources to bear against this global killer."
2. Launch of African TB Caucus shows growing political commitment to ending TB in Africa
17 July 2016 - Durban, South Africa - Political representatives from nearly twenty African countries (Algeria, Cameroon, Ethiopia, Ghana, The Gambia, Kenya, Liberia, Malawi, Mozambique, Namibia, Nigeria, Sierra Leone, Sudan, Swaziland, Tanzania, Uganda and Zimbabwe) came together Sunday to formally launch an African TB Caucus, a network of parliamentarians spanning the African continent and dedicated to leading the fight against tuberculosis (TB).
The decision came at the end of the African TB Summit, the biggest ever meeting of parliamentarians from the African continent, solely dedicated to TB. The meeting was hosted and chaired by Minister Aaron Motsoaledi, who is the co-chairman of the Global TB Caucus.
The parliamentarians endorsed the 90-90-90 TB targets and Global Plan to End TB as crucial in the development of new approaches in the global commitment to leave no one with TB behind. In addition to the unanimous decision to launch the African network, delegates agreed on a set of concrete steps to raise the profile of TB in the "Statement of Commitment to End TB in Africa."
Dr. Lucica Ditiu, Executive Director of the Stop TB Partnership which hosts the Global TB Caucus Secretariat, said: "Parliamentarians' outstanding commitment to TB represents the heart of the paradigm shift called for in the Global Plan to End TB. Parliamentarians have the power to change policies, propose increase funding, and mobilize action from the community up to the highest levels of office. I am confident they will drive enormous change in their respective countries and turn the ambitious commitments made in Durban into action."
3. Step Up for TB Campaign Launched by Stop TB Partnership and MSF
16 July 2016 - Durban, South Africa - On Saturday the Stop TB Partnership and MSF launched the Step Up for TB Campaign asking countries to update their TB Policies in line with global guidelines within 500 days. In 2015, the Stop TB Partnership and MSF conducted the first ever survey on the status of countries adoption of the latest TB Policies, outlined in our Out of Step Report. The results of the survey show that many countries need to take bold steps to bring their policies up to date with the latest international standards. A large poster was launched in Durban as part of the campaign showing the status of countries TB Policies.
Join the campaign to Step Up for TB by signing here.
4. South Africa Ministry of Health launches national coalition against TB with civil society and religious organizations
17 July 2016 - Durban, South Africa - Minister Aaron Motsoaledi launched a national coalition against TB as part of global and national efforts to end the disease by 2030. The basis for the coalition is partnership between government and civil society organisations, with religious organisations at the centre of this initiative. The partnership will make use of faith-based groups' established community ties to detect, treat and cure persons living with the disease.
"We must emphasize TB care and support that is sensitive and responsive to patients' educational, emotional, and material needs - and addresses diverse barriers that men, women, and children encounter while seeking care and adhering to treatment. By doing this, we will be able to deal with people infected by TB holistically. [...] We have pledged to demand that resources are made available to do what is necessary: to screen people for TB, including vulnerable groups, such as those living with HIV, those living far from health facilities and those in prisons; and to ensure proper, quality treatment and care for those who are diagnosed," said Minister Motsoaledi.
During the launch, attended by more than 4000 people in the eThekwini Community Church of pastor Vusi Dube, Minister Motsoaledi urged religious leaders to promote measures against the disease, particularly TB testing.
5. South Africa Ministry of Health launches two mobile apps to support people struggling with TB
16 July 2016 - Durban, South Africa - On Saturday, Minister Aaron Motsoaledi and his team from Department of Health launched two apps to simplify the dissemination of information about TB in order to ensure rapid and adequate access to TB guidelines, policies, protocols. One of the apps is focused on policies and guidelines on TB; the other one is specific on the multiple aspects of Infection Control, protection and transmission of TB. The initiative aims to make information easily available through the click of a button on anyone's mobile device. More information is available here.