Only Together Can We Defeat Tuberculosis!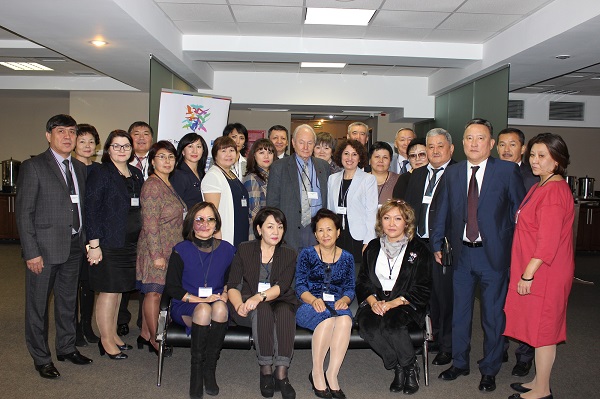 On October 24-25, Almaty hosted a workshop "Engagement of Civil Society in the Implementation of the National TB Control Program in Kazakhstan" to develop plans for expanding cooperation with non-governmental organizations (NGOs).
The event was organized by Project HOPE within the framework of the "Addressing Cross-border TB Control among Migrants" project. This project is implemented with a grant from the Global Fund to Fight AIDS, Tuberculosis and Malaria jointly with the National Research Center for TB and Pulmonology (NRC) of the Ministry of Health of the Republic of Kazakhstan, and the TB Europe Coalition under the TB Regional Eastern Europe and Central Asia Project (TB-REP).
Representatives of the NRC, regional health departments, chief doctors of regional TB dispensaries, and representatives of international and public organizations, among others, took part in the workshop.
The participants shared their experience of involving local NGOs in the fight against TB: the NGOs "Sanat Alemi" (Almaty) and "Umit" (Karaganda) spoke about their activities to provide support to patients with TB and their work with health organizations; and the chairman of the NGO "The Young Generation of Tajikistan" shared their experience of creating a STOP TB coalition in Tajikistan.
The participants were particularly interested to hear about the planned development of a special guide on engagement of NGOs in the fight against TB in the Republic of Kazakhstan – within the Global Fund grant framework. Much attention was paid to the issue of sustainable financing to engage civil society in the fight against TB. The participants discussed the possibility of local NGOs obtaining state funding through the existing mechanism of the state social procurement order in the Republic of Kazakhstan.
During group work, the participants developed joint approaches to intensify the involvement of civil society, considering strategic planning and prioritization of goals and objectives.
P. Sommerfeld, a renowned international expert in civil society engagement and a member of the TB Europe Coalition Steering Committee, and D. Ismoilova, Project HOPE Europe/Eurasia Regional Advocacy, Communication and Social Mobilization Specialist, a member of the WHO group on engaging civil society in the fight against TB, and a member of the TB European Coalition, facilitated the workshop.
"Over the past 10 years, as the head of TB services in the region, I have never met with representatives of NGOs, and, frankly, I did not even imagine how they could be involved in the implementation of the TB program, and what benefits they could bring. Thanks to this workshop, I have realized the important role that civil society plays in the detection, treatment, and prevention of TB, and have also learned that we have NGOs in Kazakhstan who want to contribute to the fight against TB. For myself, I have concluded that NGOs should be our full partners, and that only together can we defeat Tuberculosis!", says Zh. Sagiyev, Head of the Atyrau Regional TB Dispensary.