Rape Hurts Foundation (RHF) donates #BioSand Water Filters to Expecting Mothers living with HIV/AIDS & TB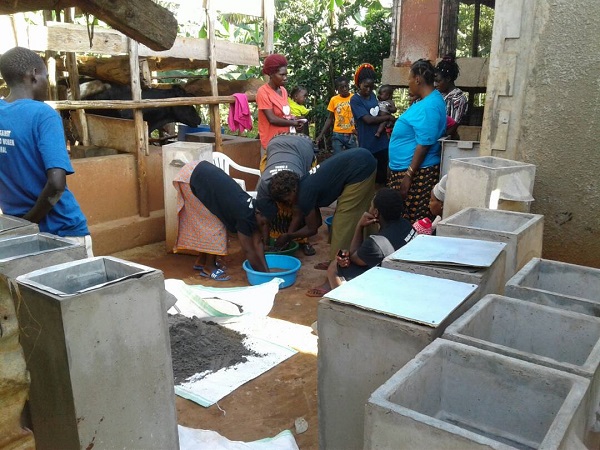 Rape Hurts Foundation (RHF) www.rapehurts.org is a community service nonprofit organization, non-government organization founded in 2008 by Hellen Lunkuse Waiswa. Among RHF's core programs, we have a sound Health & Care Program, which runs an HIV/AIDS & TB Project.
RHF's HIV/AIDS & TB Project services over 5,000 patients (including key populations) with access to drugs, screening, access to safe, clean water, nutrition, counseling and social support.
Under the department of TB, RHF ensures that all our patients have access to safe, clean water. Since we operate in the rural areas of Busoga Sub Region, the poorest region in East Africa, it's pretty hard to have access to safe, clean water. In this region there is no piped water, so 87.9% of the population has to depend on open wells and swamps to get water, which is always contaminated since the locals share the water sources with animals. This has resulted in several waterborne diseases, which are affecting our patients already living with TB.
So RHF, with support from Friendly Water for the World (FWD) of Olympia, Washington, USA, started making BioSand Water Filters, which have the ability to make dirty water clean, fresh and 99.9% bacteria and germ free.
We distribute these #BioSand Water Filters to special groups of patients in our effort to have them have access to affordable, safe and clean water for drinking and cooking.
On the 3rd of November 2017, between 8am and 5pm, RHF gave out 1,000 BioSand Water Filters to expecting mothers living with HIV/AIDS & TB from the rural, poor, remote villages of Nyenge, Kigulu, Nakakanu, Bwajja , Wairaka, Budondo, Musita, Kakiira and Musoli in Busoga, Eastern Uganda.
Rape Hurts Foundation trained them on how to use, clean, install and repair the filters. Our Programs' Director Mr. Kadhumbula Kalema makes weekly visits and follows up with the beneficiaries. We have created a network of social support so that the patients are self-reliant.
To learn more about this project, please contact Mr. Kadhumbula Kalema at rapehurtsuganda@gmail.com or info@rapehurts.org.
This brief was written by Kadhumbula Kalema - Programs' Director of Rape Hurts Foundation. Photo courtesy of RHF.