From the trap of sickness and hopelessness, only human help and mercy will save, - thinks Rashid, a labor migrant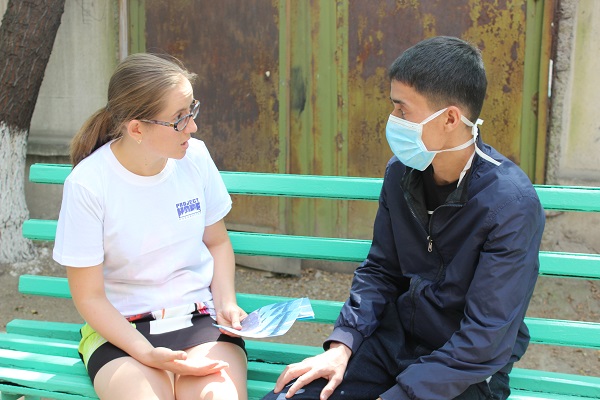 "I 've gotten into an extremely difficult life situation: tuberculosis, lack of means and homesickness. In a foreign land, I thought that no one would help me. It has turned out that there are organizations and people who are not indifferent to my fate - the lot of an ordinary man."
Rashid has lived in Almaty for almost half his lifetime. He came from Uzbekistan with his father and brother when he was just a fifteen-year-old teenager. He worked on a construction site. The wages were small. But he could not ask for more. Firstly, Rashid had lost his birth certificate, and he had no documents. Secondly, he was nearly illiterate as he had hardly passed two school grades in his homeland. It was necessary to help his parents. And in a large family, if you can hold a shovel or a sickle - you are already a worker, and must go and work for the good of all.
At home, he could not find a job. It was decided to leave for Almaty - a large city with great opportunities. So it seemed then. They rented a shanty, they ate modestly, saved every cent. As, most importantly, was there a job, there was also the hope that the family would be able to stay. Following the men, his mother came to Almaty with his sisters and brother. There was even more confidence that things would settle down. Rashid worked all day at the construction site: lifting weights, mixing concrete; but in the evening, he was at home, among relatives. Mama prepared delicious pilaf, and the sisters shared the latest news.
Through their joint efforts, saving everything, they managed to set aside a small sum for the purchase of a plot of land. They had already planned the construction of a house, the planting of a garden and a vineyard; but the dream was not to come true. The family was deceived and, having lost their money, and with it also hope, the parents with younger children returned to their native land in despair. The brothers continued to work, sending their relatives a portion of their earnings.
... That autumn turned out to be rainy, with early frosts. Rashid was constantly ill: fever, cough, weakness... But every morning he got up and went to the construction site. There was no money for medicines. With difficulty he lifted bricks, yet became weak, until one day he lost all consciousness.
"Rashid did not walk in, he was literally carried. He was very thin and emaciated, with sore eyes and severe weight loss. He was breathing hard. The examination showed an open form of pulmonary tuberculosis," said Lucia Yermanova, a social worker at the Zabota (Care) crisis center.
Three months of treatment in the inter-district TB dispensary in Almaty called for Rashid's determination and patience. The international organization Project HOPE partially covered his treatment as an external labor migrant under its program "Activities aimed at the cross-border control and treatment of TB, MDR-TB and TB/HIV among labor migrants" funded by the Global Fund to Fight AIDS, Tuberculosis and Malaria. Then, due to the state of his health, the treatment had to be extended for three more months, and in this situation the Project HOPE program also provided support.
Now Rashid is treated as an outpatient; every day he comes to the dispensary for medicines, and receives motivational support from the Project HOPE program. Here people not only get treated, but are also fed a hot meal.
By force of his new circumstances, Rashid has been left without means of subsistence. "I do not have documents, so I cannot go home. I cannot work - my health does not allow it. My brother, the only relative left in Kazakhstan, has been detained by the migration police, and is now in pre-trial detention. There is no money to pay for a rented apartment. There is nothing to live for. I feel trapped."
Social workers of the "Zabota" crisis center provide support in such difficult situations. Within the framework of the project, they give Rashid special motivational vouchers for the purchase of food and hygiene products. Zabota workers have applied to a partner public organization, which has taken over the payment for renting a house and buying clothes and shoes. They have also appealed to the International Organization for Migration with a request to assist in the restoration of his documents. Now all the necessary requests have been sent to the appropriate authorities. And, of course, Zabota workers constantly communicate with Rashid: they have taught him to write his signature, discuss movies with him, and, most importantly, urge him not to lose faith in human compassion.
"Rashid's case is not simple. He must first restore his birth certificate, then apply for a passport. This will take a while. He needs to complete his recovery. We intend to bring the matter to a satisfactory end. Therefore, every day we meet with Rashid and help as best as we can. This year, our organization has helped four external migrants with tuberculosis, who lived and worked without documents in Almaty," said Ulzhan Lukpanova, director of the Zabota crisis center.