Worth their weight in gold: health workers in rural areas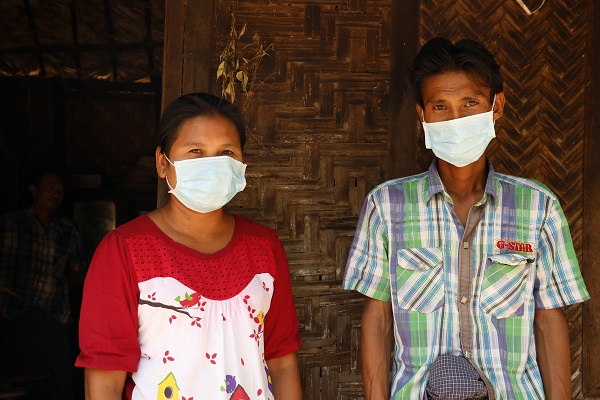 How do people get health services in rural areas in Myanmar? Meet Daw Mar Mar Khaing and learn about her work with tuberculosis patients in Kan Taw village in Sagaing Region.
Kan Taw is a large village in a rural area of Sagaing, about 12 km away from the closest city, Myinmu. It has more than 600 households, connected through unpaved roads that flood when it rains.
Daw Mar Mar Khaing has been working here as a volunteer for Myanmar Health Assistant Association (MHAA) since October 2015. She works closely with tuberculosis (TB) patients to make sure they receive the care they need to get better.
Ko Aung Lwin Kyaw, 28, is one of the people that she helps. Like many others in his village, he lives with his family in a dark house, built that way to avoid the heat of the sun. His bed has a bed net to protect him from mosquitos at night.
When Daw Mar Mar Khaing and Ko Aung Lwin Kyaw first met, she checked his symptoms and recommended that he visited the mobile TB clinic as soon as possible. It was there that he was diagnosed with TB. This was later confirmed at the township hospital.
Ko Aung Lwin Kyaw wasn't scared. A few years ago, his father had TB, so he knew what to expect.
After visiting the township hospital, he began to receive treatment. It will last for 6 months. He isn't able to work during the treatment because he still feels very unwell. He is tired often and suffers from fevers.
Despite these challenges, the disease hasn't had a big impact on his life. He knows he has a whole village to thank for that. His family, for being supportive of him; his brother, for taking care of the family business; and the villagers, for treating him just the same as before.
More than anyone, he is grateful for Daw Mar Mar Khaing. She visits him and his family often.
"Daw Mar Mar Khaing taught me and my family how to take the medicines that I needed regularly. She gave us detailed information about the treatment. After talking to her, we decided to put my bed separate from the rest, to avoid spreading the disease to the family," he says.
Ko Win Myint Htay hasn't been so fortunate. When he found out that he had TB, he moved to his parents' house to avoid spreading the disease to his wife and daughter. Even though he has been taking medicines for more than one month, he hasn't been able to rest properly.
"The family business is to grow crops and beans. Losing just one man can affect our income" his mother says.
But Daw Mar Mar Khaing hasn't given up. She visits him and his family often, encouraging him to stick to the treatment and to rest. She also teaches them how to avoid spreading the disease.
"I use a handkerchief when coughing and wear the mask all the time" says Ko Win Myint.
Myanmar Health Assistant Association implements TB activities in 16 townships in Rakhine, Bago and Sagaing since 2014. Their work in support of TB community health volunteers is made possible thanks to the funding from 3MDG, by pooling the contributions of Australia, Denmark, the European Union, Sweden, Switzerland, the United Kingdom and the United States of America.