USAID SUPPORTS UZBEKISTAN AND TAJIKISTAN DOCTORS' KNOWLEDGE EXCHANGE FOR TUBERCULOSIS CONTROL IN CENTRAL ASIA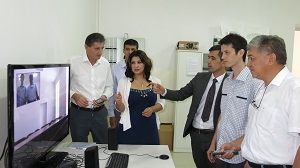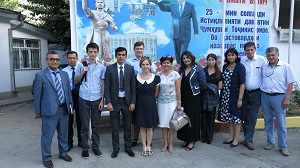 25 August 2017 - Tuberculosis (TB) experts representing Uzbekistan's Republican Specialized Scientific and Practical Medical Center of Phthisiology and Pulmonology and the Tashkent Medical Academy traveled to Tajikistan on August 22, 2017, for a four-day visit to the Center of Excellence at the Republic of Tajikistan National Center of TB, Pulmonology, and Thoracic Surgery and other medical training institutions and TB facilities. Supported by the United States Agency for International Development (USAID), the visit was the first time TB experts from Uzbekistan have met with colleagues from Tajikistan to share best practices and expertise. In particular, the Uzbekistan health professionals learned about recent approaches in medical education and exchanged information on integrating TB education into medical school curricula. This visit was one of many knowledge-sharing activities USAID supports under its TB Control Program to promote a cooperative and coordinated TB response across Central Asia.
The Center of Excellence was established in Tajikistan with support from USAID and has grown to become a premier institution, training thousands of healthcare providers and students in the latest approaches to TB prevention, detection, and care using a patient-centered approach and the latest recommendations from the World Health Organization. The Uzbekistan doctors participating in the visit will serve as mentors and trainers at a future center of excellence to be established at the Republican Specialized Scientific and Practical Medical Center of Phthisiology and Pulmonology in Tashkent with support from USAID.
USAID supports the Ministry of Health of the Republic of Uzbekistan and the Ministry of Health and Social Protection of the Republic of Tajikistan in implementing their National Tuberculosis Programs by providing more effective and accessible TB prevention, diagnosis, and treatment for all, including vulnerable populations. The main objective of the five-year USAID TB Control Program is to reduce the burden of TB and prevent multidrug-resistant forms of the disease in Tajikistan and Uzbekistan. The USAID TB Control Program covers a wide range of technical areas, including strengthening the health systems' human and institutional capacity, improving interagency coordination and cooperation, and increasing access to diagnosis and treatment.