ASEAN Institute for Health Development Holding Tuberculosis Prevention and Control Training Course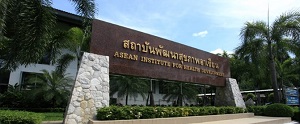 21 June 2017 - ASEAN Institute for Health Development is going to conduct a two-week training course for hospital care level personnel in Tuberculosis prevention and control from 6 to 19 August 2017 at Narai Hotel, Bangkok. This training will be sponsored by Japan International Cooperation Agency (JICA) and Thailand International Cooperation Agency (TICA) collaboration with Bureau of Tuberculosis, Department of Disease Control, Ministry of Public Health Thailand.
The total number of targeted participants will be 32 from Cambodia, Lao PDR, Myanmar and Vietnam. There will be 6 participants from the clinical field and 2 participants from academic field per country. The selection process will be through a government to government application channel between Thailand and CLMV countries via the Thailand Embassy in each country.
The training will be conducted by lectures by the way of interactive participation including group work, group discussion, country presentation, cultural visit in Thailand, and field visit to one border province to learn about TB border management and field visit evaluation. The expected outcomes after this training will be as follows:
Learn about the updated treatment, prevention and control of TB/TB-HIV from the speakers and apply this knowledge in their own countries and border cases management.
Share knowledge about integrated management of TB - HIV in each country to improve patient treatment not only in the country but also in the border areas.
Learn about TB case treatment, management, prevention and control and share experiences among CLMV.
Coordinate to effectively manage and treat TB by collaborating among countries and CLMV to reduce cases and complications in border areas.
Exchange information about planning and conducting capacity-building trainings among TB caretakers, community doctors, nurses, and health care workers in their respective countries on effective and regular use of TB drugs, good nutrition and personal care. (TB management).
This is the second training for TB prevention and control training among CLMV countries as the first training was done in February on National Policy and Management Level Personnel in TB Prevention and Control. It will be a fruitful training among CLMV and Thailand TB border management.