One-on-One with Dr Kamene Kimenye - Mariita on Project ECHO in Kenya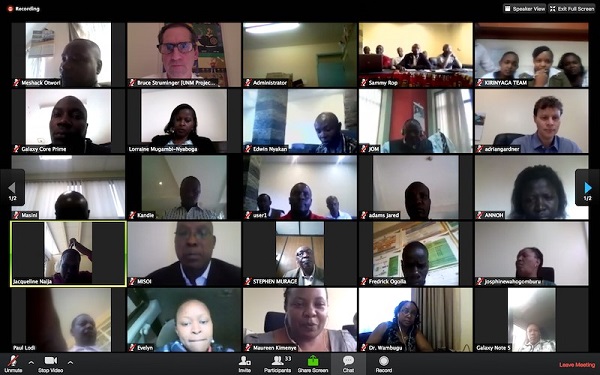 1. What is ECHO?
Expanding Capacity for Health Outcomes is a collaborative model of medical education and care management that empowers clinicians everywhere to provide better care to more people, right where they live. The main aim is to transfer knowledge from an area with many experts to that without.
ECHO bridges the barriers between specialty and primary care. It links expert teams at an academic 'hub' with primary care clinicians in local communities - the 'spokes' of the model. Together, they participate in weekly teleECHO clinics, which are like virtual grand rounds, combined with mentoring and patient case presentations.
The clinics are supported by basic, widely available teleconferencing technology. During teleECHO clinics, primary care clinicians from multiple sites present patient cases to the specialist teams and to each other, discuss new developments relating to their patients, and determine treatment.
Project ECHO was developed by Professor Sanjeev Arora of university of New Mexico who was the only specialist of hepatitis C management. He had patients waiting for a long time even up to eight months before getting treatment. Therefore, he decided to come up with ECHO model to reach health care workers (HCW) in the peripheral, who would then initiate patients on treatment without having to refer to him, hence reducing the waiting time treatment and increasing access to care.
2. Many people think ECHO is telemedicine, what is the difference between the two?
Telemedicine is a model that lets physicians treat their patients remotely via video-chat. Unlike ECHO, telemedicine does not need a hub and spoke structure as it has a direct doctor-patient relationship. It promotes a patient and expert connection and has remote patient monitoring. ECHO promotes case-based learning where patients are de-identified before the video conferencing.
3. When was it launched by the National Tuberculosis, Leprosy and Lung Disease Program (NTLD-Program), Kenya?
On August 1, 2016, Kenya became the first country in Africa to implement the use of ECHO in the management of TB. There has been great progress since then, which includes:
15 TB ECHO weekly sessions
Between 12 and 64 spokes calling in using various equipment from smart phones, laptops to high-tech video conferencing facilities
A hub and 5 spokes have already been established and set up with video conferencing facilities
Partnerships established with the HIV program, funding agencies and implementing partners
Funds to establish 24 spokes through partners have been sought
Incoming TB ECHO Coordinator and IT/M&E point persons have been interviewed to support the ECHO project
This has started as the country prepares for the official launch that is in the final planning stage.
4. How many people has ECHO reached?
In a period of four months, ECHO has reached the County Tuberculosis and Leprosy Coordinators (CTLCs) and they are greatly benefitting. It has also reached a number of clinicians, 100 sub–county tuberculosis and leprosy coordinators (SCTLC), as well as national program staff. The ECHO project has also been used for laboratory quality improvement and over 47 GeneXpert super users have been reached so far. The platform has also been used for meetings in TB control reducing the cost of travel and saving time. We have so far discussed 13 TB/HIV cases with severe conditions that posed a challenge to the Health Care Workers (HCWs), and proper management instituted e.g. Extensively drug-resistant TB (XDR TB) and drug induced liver injury among others. Patient confidentiality is observed during all discussions.
There exists a lab ECHO for TB that connects the GeneXpert super users and the County Medical Lab Technicians (CMLTs). The NTLD-Program is in the process of setting up another lab ECHO for culture laboratories and TB microscopy for quality assurance and monitoring of algorithm implementation.
5. Who is eligible to participate in the ECHO sessions?
NTLD-Program partners and County TB coordinators receive an email request to join the meetings as there are TB cases for discussion each week. The cases to be discussed are shared at least five days before the ECHO session. The cases range from TB, TB/HIV, MDR TB, TB-Diabetes among others. An expert in the field makes a 15-minute presentation on the subject as part of training.
6. How do participants access ECHO sessions?
Participants only need to be connected to the internet and have the Zoom application downloaded on their machines to access ECHO sessions. Zoom is a software that provides a video and audio conferencing platform. We share a link and meeting ID with the participants and they can join in from any part of the world, either using their smartphones, desktop computer, tablet, laptop with a camera or proper video conferencing set up etc. ECHO Zoom can host a meeting of up to 100-200 participants. However, a proper ECHO session should have a maximum of 25-30 spokes per session.
The platform is good as it allows participants to share their presentations, images etc. Participants can also ask questions using the chat options or raise their hand and ask verbally. Information is also shared through iECHO, which is also used as a monitoring tool.
7. How often do the ECHO sessions happen?
ECHO sessions take place every week on Tuesday morning from 8:30AM to 9:30AM. As more people call in, ECHO is expanding and future sessions will be scheduled on different days and times of the week.
8. What is the significance of ECHO, and how has ECHO come to change TB operations?
TB ECHO has improved interaction between the spokes and the experts sharing a case as they can see each other as opposed to use of cell phone or email. It has come to change TB operations in the following ways:
Reduced the cost of training as more people can be reached at a go compared to a classroom session. People do not have to travel or leave their place of work
It is an affordable way of communication
Information can be given in little bits as people can listen to small bits of information at a time
Best practices can easily be picked and shared
It allows for quick response or sharing in case of emergencies
ECHO has improved the uptake of new policy directions especially Isoniazid Preventive Therapy (IPT), improved paediatric regimen the and use of GeneXpert
9. What is the source of funding for TB ECHO and what are the financial implications?
USAID is currently funding the equipping of the national hub as well as staff supporting ECHO. The cost implication is mainly on the purchase and setting up of equipment, provision of internet, and a stipend to the expert making the presentation as well as costs for the incoming staff.
10. What is next for ECHO?
At the moment, we are setting up a hub at the National TB Program offices and identifying clusters that have the conferencing facilities for decentralisation and site assessment for setting up. Picking lists of clinical teams is also ongoing so that they can be introduced to ECHO.
With the rapid expansion, we are in the process of recruiting a Help Desk Coordinator and an ICT Officer to manage the day-to-day ECHO needs. This is because we are exploring how to record the sessions, upload and share them via podcasts or SoundCloud on the NTLD-Program website www.nltp.co.ke. This will create a reference point where anyone can download a past session and refer to a particular discussion. iECHO will also be used.
We are also planning to decentralise project ECHO as we have expanded and managing a huge number of participants in one session is becoming challenging. With decentralisation, ECHO will be used by clinical teams i.e. CTLCs and some SCTLCs who will undergo training so as to coordinate clusters meeting per county and use it to discuss programmatic and clinical issues.