Coming Home Healthy: Kamil Israilov's Story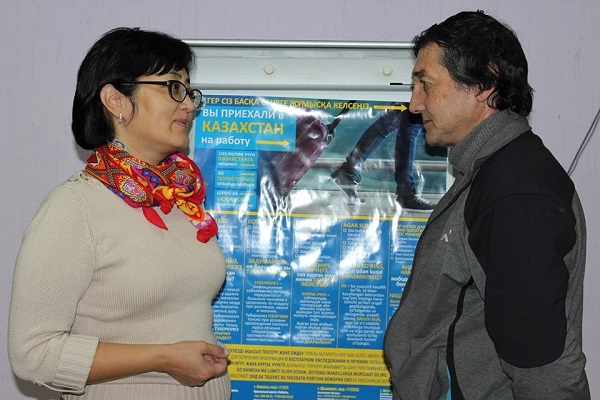 "Fever, weakness, coughing up blood... Tuberculosis took away my strength and my health. But my main losses came later: due to my illness, I lost my job and a place to live. In a foreign country, this is the same as dying."
When one day 15 years ago, Kamil saw a friend who came to visit his native Osh in Kyrgyzstan after moving to Kazakhstan's capital city of Almaty, it didn't take long for Kamil to make a decision to move to Kazakhstan as well. He was recently divorced and ready to make a fresh start. After the divorce, living at home brought painful memories and Kamil was eager to wipe his slate clean and not give his mother a reason for constant worry about her son's future. There were also some issues at work, which made the decision to move to Kazakhstan easy for him. Kamil packed his bags and set off with his friend for the big city.
Big city brought big challenges. Kamil needed to rent a room, find a job and save as much as possible so that he could send money back home to help his family. It was not easy to save for a single man in a big city with lots of opportunities to spend his hard-earned savings. At first, everything went well. Kamil had a skill that was in great demand -- he was a driver. Just like back home in Osh, Kamil landed a job with a bus depot, and rented a room nearby. He learned to cook simple meals and do his laundry.
The private transportation company where Kamil worked allowed him to keep the bus overnight and park it near his rented room. Every morning for 10 years, Kamil was at the wheel driving his bus. "It seemed to me that I had become a part of this city and this country, even though it was not my homeland. I had a job, friends, and was hoping to meet a woman with whom I could share my life. Unfortunately it didn't work out," recalls Kamil.
Kamil ran into a streak of bad luck when he lost his identification papers. He needed to have them reissued back home in Kyrgyzstan but couldn't travel there without his passport. At the same time, Kamil started to feel unwell and weak. He had a bad cough that he thought was just bronchitis and all he needed was some medicine to feel better again. He could barely drag himself to work and kept on coughing and losing weight. One night, he woke up with severe chest pain and drenched in sweat. He was so weak, he could not get out of bed. At that point, when Kamil started to cough up blood, he realized the full extent of his illness - he had tuberculosis.
He called an ambulance, but doctors refused to come to a patient who was not registered and not even a citizen of Kazakhstan. Kamil was desperate: he begged for help and even warned that he might infect others if he continued to drive the bus while being sick. Finally, the doctors came to help him.
At the hospital, his diagnosis was confirmed as tuberculosis. It was at the time that was most difficult for Kamil, with no family or friends nearby, when the Almaty-based Zabota Crisis Center came to save him. Zabota, a non-governmental organization, was engaged by Project HOPE under "Addressing Cross-Border TB and TB/AIDS Among Labor Migrants" - a program supported by the Global Fund to Fight AIDS, Tuberculosis and Malaria. "We work with migrant workers as part of the Project HOPE Kazakhstan Project on cross border control and treatment of tuberculosis and its multi- and extensively drug resistant forms as well as TB/HIV co-infection. We have agreements with hospitals, which let us know when they admit migrants who are presumed to have tuberculosis. If the diagnosis is confirmed, we help with medical exams and admission to tuberculosis hospitals for treatment," notes Ulzhan Lukpanova, Zabota's Director.
Kamil was admitted for inpatient treatment to a district TB hospital in Almaty and thanks to the caring medical staff and support from Zabota, Kamil's condition had improved. Every time, when social workers from Zabota came to visit him in the hospital, Kamil was amazed with their selflessness and kindness. "I have seen them before. These young men and women had been on my bus handing to passengers leaflets about free TB screenings and available support. I didn't believe this was true and that free treatment was available for me - a migrant worker, and I doubted that anyone even cared about my health."
Kamil was flying high when three months later he was discharged from the TB hospital fully cured. However, when he came back to his rented room, his good mood quickly dissipated. Kamil saw his belongings strewn all over. His landlady kept repeating just one word - "tuberculosis" and no longer wanted him as a tenant. Kamil was eager to get back to work, but the bus company had dissolved. His friends of many years no longer answered his calls. In desperation Kamil turned to Zabota for help again. Zabota volunteers persuaded the doctors at the TB hospital to let Kamil stay at the hospital for another month even though it was against the rules. Thanks to the help from the Kyrgyz Cultural Association, which contacted the Kyrgyz Republic Consulate in Kazakhstan and a local prosecutor's office, Kamil's lost documents are now finally being reissued.
It has been more than three years since Kamil's last visit to his homeland and over a year since he heard from his family. When Kamil was visiting his home last time, his father was very ill. Kamil does not know how his dad is doing and even if he is still alive, but is looking forward to being able to hug again his father, brothers, and all his relatives. He has decided to return to Kyrgyzstan. Most importantly, he is coming home healthy!