Utilizing the Power of Sports to End TB
Liberia Grassroot Soccer Development Initiative to organize Unite to End TB Soccer Tournament on World TB Day in Liberia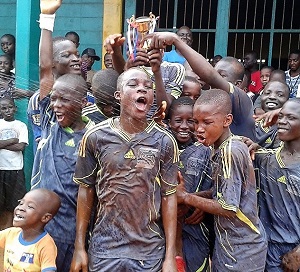 Tuberculosis remains one of the major public health problems in Liberia, though no definitive studies have been conducted to determine the exact burden of the disease. TB is one of the health priorities in the national health plan and the essential package of health services, and is integrated into the Primary Health Care (PHC) services.
The World Health Organization estimated the TB prevalence in Liberia to be 453/100,000 population in 2011, compared to 341/100,000 in 1990. The estimated TB incidence in Liberia currently is 299/100,000 population. There has been on an upward trajectory since 1990 with no evidence yet of any tendency to decline. The annual increase in estimated TB incidence is 2% since 2005.
In recognition of these challenges related to Tuberculosis, the Consolidated Youth for Peace & Development (COYPED) through the Liberia Grassroot Soccer Development Initiative plans to create massive sensitization and awareness on TB using soccer as a vehicle to mobilize huge numbers of community dwellers, especially young people, in slum communities in Montserrado County in Liberia.
The Unite to End TB Soccer Tournament is also in commemoration of this year's World TB day in Liberia. The event will create a platform for awareness and sensitization on TB-related prevention methodologies as well as treatment and available opportunities for affected persons.
The event is expected to bring together over 2,000 persons from four communities in New Kru Town on the Bushrod Island in Monrovia in a three days massive TB awareness and sensitization soccer tournament.
"We are currently soliciting partnership with relevant stakeholders, including funding partners, to ensure a successful implementation of the event in Liberia," stated James Koryor Executive Director of the Consolidated Youth for Peace & Development and National Program Director Liberia Grassroot Soccer Development Initiative.