USAID Success Story: Uzbekistan's Healthcare Providers Gain Critical Skills to Detect and Treat TB in Children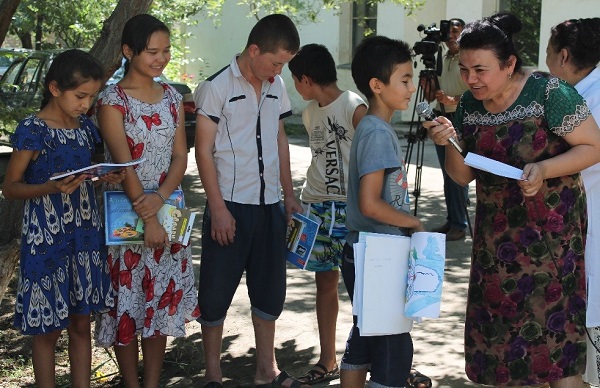 23 December 2016, Uzbekistan - "Curing children from tuberculosis (TB) has been my life's calling," admits Dr. Zevar Jumanova, chief of the pediatric ward at the regional TB hospital in Uzbekistan's Khorezm region. "Because pediatric TB is difficult to detect and treat, children are more likely than adults to develop life-threatening forms of this disease," she notes.
Typically, TB is detected through a laboratory examination of sputum; however, collecting and accurately testing sputum specimens in children can be challenging. That is why a positive tuberculin test is one of the ways to diagnose TB infection in children. However, due to the interruptions in tuberculin supply that Uzbekistan experienced for several years, many doctors and nurses lack the skills in proper administration and interpretation of this critical test.
To address this challenge, and in a continuation of its commitment to support Uzbekistan's National TB Program (NTP) in reducing the burden of TB among children and adults, USAID has trained nearly 300 pediatric healthcare providers like Dr. Jumanova in the skills crucial for tackling this dangerous disease in children. In 2013, in partnership with NTP and the World Health Organization, USAID contributed to the establishment of the first national guidelines on detection and treatment of TB in children and adolescents; and since 2015, under its TB Control Program, USAID has been training pediatric doctors and nurses on how to effectively detect and treat TB.
"Thanks to the training, we now clearly understand the steps that healthcare providers need to follow when testing and treating children for TB with proper TB drug dosages," notes Dr. Jumanova.
As a result of the knowledge-sharing initiatives provided by USAID over the past two years, over 6,000 children in Uzbekistan's Bukhara, Kashkadarya, Khorezm, and Navoi regions have been examined for TB with the tuberculin test and 35 cases of early stage TB have been detected. All children are receiving in-patient or outpatient treatment from the trained doctors and nurses and are expected to make a full recovery.