USAID Success story: Empowering Individuals Vulnerable to Tuberculosis to Seek Early Diagnosis and Care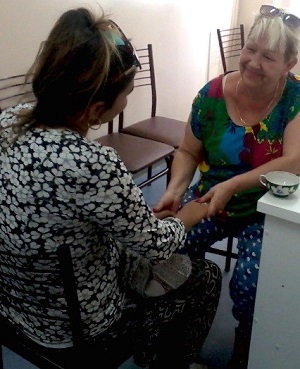 30 November 2016, Uzbekistan - For months, Svetlana*, a 35-year old resident of Navoi, an industrial city in Uzbekistan, was suffering from a debilitating cough and severe weight loss that made her weak and unable to walk or even stand. She was reluctant to seek medical care fearing being judged for her life choices. However, support provided by Tatiana*, a dedicated peer outreach counselor and a member of a team of doctors and social workers organized by USAID, proved to be life changing for Svetlana.
A former drug user herself and a person living with HIV, Tatiana learned about Svetlana's grave condition through a network of former peers. She immediately set out to help with the nurturing and encouragement that vulnerable persons like Svetlana need the most for early Tuberculosis (TB) and HIV diagnosis and care. "Tatiana has helped me believe in myself and realize that I was not a total failure but just someone who stumbled. She convinced me to turn my life around and seek treatment for TB not only for my own sake but also for the sake of my family -- my young son and my mom," recalls Svetlana
Throughout the world, vulnerable individuals like Svetlana are reluctant to seek treatment for TB due to a lack of information and feeling of isolation and stigma associated with drug use. Unfortunately, TB - an infectious but curable disease - proves to be a killer for many who contract it.
For this reason, in Uzbekistan, USAID implements interventions focused on making TB diagnosis and care more accessible for those who are marginalized due to their lifestyle or economic status. The USAID TB Control Program supports outreach within communities where at-risk individuals live through teams of healthcare providers and peer counselors like Tatiana. The teams' coordinated and patient-centered efforts focused on behavior change and referral prove to be very effective in reaching out to vulnerable persons for whom access to TB care is not readily available.
Through these patient-centered efforts, now, Svetlana is completely cured of TB and has enrolled in treatment for HIV. Moreover, she has not only resolved to turn her own life around, but, like her mentor -- Tatiana, has dedicated herself to helping others to get tested and seek treatment for TB and HIV.
"It is a miracle that I am still alive today and that now my life has purpose and hope. I am grateful to USAID for organizing such a great team of people to support me and to believe in me and in my ability to turn my life around," says Svetlana.
Through patient-centered outreach, advocacy, and support provided by USAID under its TB Control Program in Uzbekistan, since 2015, nearly 13,000 individuals have benefitted from TB and HIV counseling, and 130 TB patients from vulnerable groups are now under follow-up care and support by the dedicated teams of healthcare providers and peer counselors organized by USAID.
* Full name withheld to protect identity