USAID, Uzbekistan Ministry of Health, and the in-service training center for journalists discuss the role of the media in raising public awareness around tuberculosis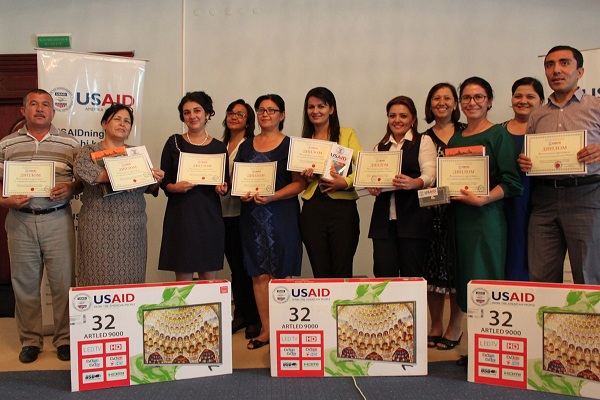 Tashkent, Uzbekistan, September 15, 2016 - The United States Agency for International Development (USAID), the Ministry of Health of the Republic of Uzbekistan (MOH RU), and the National Specialized Scientific and Practical Medical Center of Phthisiology and Pulmonology (NSSPMC PP) and the In-Service Training Center for Journalists held a roundtable discussion with journalists and media representatives on the important role media can play in raising public awareness about tuberculosis (TB).
According to World Health Organization 9.6 million people are currently infected with TB, one of the most common infections in the world. Though it is preventable and curable, 1.5 million people still die every year from it. One major cause of the prevalence of TB is the lack of awareness in the general public on available prevention and treatment methods.
Recognizing that when journalists are properly trained in how to accurately cover TB issues, they can play an important role in combatting the spread of the disease, USAID and the In-Service Training Center for Journalists provided training on TB reporting to more than 150 journalists throughput Uzbekistan over the past year.
Today's roundtable follows the training and gave participants the opportunity to discuss collaboration and broader issues related to TB reporting. Gulnara Babadjanova, director of the In-Service Training Center for Journalists noted, "TB control is not only a medical issue but also a social one; therefore, it is important for journalists to report accurately and dispel myths and misconceptions about the disease."
The following winners of a "Best Media Coverage of Tuberculosis" competition were recognized at an award ceremony after the roundtable discussion:
Press: Fargona shifokori (Fergana), Saidburkhon Kodirov (Bukhara), and Dilrabo Kuryazova (Khorezm)
Electronic Media: Khulkar Raddzhapova (Kashkadarya), Nargis Kasymova (Tashkent), Elvina Mustafina, Znamya Druzhby (Navoi)
TV/Radio: Mekhribon Zaripova (Bukhara), Shokhida Abdualimova (Tashkent); Gulnara Alikulova (Kashkadarya)
A special recognition was also conferred in the "Young Journalist" category to Zukhra Ishchanova (Khorezm).
------
USAID supports the MOH RU in implementing the National TB Program by providing more effective and accessible TB prevention, diagnosis, and treatment for all, including vulnerable populations. The main objective of the five-year, $7.6 million USAID TB Control Program is to reduce the burden of tuberculosis and prevent multidrug-resistant forms of the disease. The program covers a wide range of technical areas, including strengthening the health system's human and institutional capacity, improving interagency coordination and cooperation, and increasing the use of electronic databases.