The Global TB Caucus
The Global TB Caucus is a unique international network of political representatives with support in more than 100 countries. Led by its members for its members, with the support of a dedicated Secretariat, the members of the Caucus work collectively and individually to increase progress against the TB epidemic at national, regional, and global level.
Members of the Caucus adhere to the principles outlined in the founding document, the Barcelona Declaration. In particular they commit:
To working across geographical and political divides in a non-partisan and inclusive fashion;
To engaging with civil society and all other stakeholders involved in the fight against the TB epidemic; and
To confront stigma and social isolation associated with the disease.
The Barcelona Declaration is the founding document of the Global TB Caucus. Open to any political representative in the world to sign, it is a demonstration of support for the objective of ending the TB epidemic.
To date, it has been signed by more than 1,000 political representatives from over 100 countries. Learn more about the Caucus and how to get your local Parliamentarians engaged here.
In This Section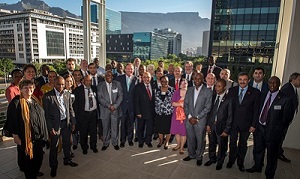 Contact Information
Greg Paton,
Team Leader - Advocacy
gregp[at]stoptb.org
Karishma Saran,
TB Policies Officer
karishmas[at]stoptb.org
Advocacy Resources