Mobilizing Leaders to Take Action
The Global TB Plan to Stop Tuberculosis
The Global Plan to Stop Tuberculosis 2006-2015 was launched at the World Economic Forum in Davos in 2006. The plan set out a roadmap for treating 50 million people for TB and enrolling 3 million patients who have both TB and HIV on antiretroviral therapy by 2015. It aims to halve TB prevalence and deaths compared with 1990 levels by 2015.The plan has played a central role in mobilizing the world to successfully meet the 2015 MDG target to halt and reverse the spread of TB, and has driven global case detection rates to over 60% and treatment success rates for pulmonary TB to over 85%.
The plan was updated with the Global Plan to Stop Tuberculosis 2011-2015.
In view of the Sustainable Development Goal 3 that calls for the end of TB by 2030 and the WHO End TB Strategy, the Stop TB Partnership launched the Global Plan to End TB 2016-2020: The Paradigm Shift in November 2015. The Global Plan is a 5-year investment plan for treating 29 million people with TB, saving 10 million lives and preventing 45 million cases. The demonstrated return of investment is US$ 85 for each dollar invested.
The Global Plan to End TB also calls for a paradigm shift in the TB world, and aiming at achieving the 90-(90)-90 targets by 2020.
TB and Mining in Southern Africa
Mine workers in South Africa currently have the highest rate of TB in the world. One-third of TB infections in the Southern African region are linked to mining activities and recent research has estimated that 3% to 7% of miners are becoming ill with the disease each year.
Mining is a key driver of tuberculosis in the Southern Africa region. Three members of the Stop TB Partnership Coordinating Board have been the driving force behind an initiative that led to a landmark declaration on TB and mining led by Dr Aaron Motsoaledi, Minister of Health of South Africa and current Chair of the Stop TB Partnership Board.
Their high-level advocacy resulted in the historic Declaration on TB in the Mining Sector, which was signed by Heads of State at the Southern African Development Community (SADC) Summit in August 2012. In March 2014, the Stop TB Partnership co-organized a high-level Summit in Johannesburg, South Africa with the South Africa government, the World Bank, and the Global Fund.
Representatives from Southern Africa countries agreed to implement a regional harmonization approach in addressing tuberculosis in mining, including common systems for tracking patients, harmonizing treatment regimens and protocols, and ensuring that communities and families of miners with TB are screened and subsequently rolled-out. The Stop TB Partnership will continue to work with its partners to bring an end to the tuberculosis epidemic in mining communities and drive follow up action.
TB on the BRICS Agenda
BRICS countries have a combined population of almost 3 billion and a combined GDP of (USD) $16 trillion. Together, they have the power to drastically reduce the global TB burden.
At the Union World Conference on Lung Health in Paris, the Secretariat organized a Preparatory meeting on TB and HIV in support of The BRICS Health Ministers meeting in November 2013. The meeting focused on the challenges, experiences and opportunities in addressing the burden of TB and HIV in BRICS countries, leading to a draft communiqué which was put forward to BRICS Health Ministers. The outcomes of this meeting were presented and discussed by the BRICS Ministers of Health and an action plan was developed to translate these into practical developments.
In November 2013, Ministers of Health from Brazil, Russia, India, China and South Africa issued a statement in Cape Town, South Africa, agreeing to collaborate on improving systems to find and treat patients with TB, improve the supply of TB drugs, and collaborate to develop new drugs and vaccines.
The Stop TB Partnership has continued to work closely with BRICS countries to drive action on tuberculosis, including a joint BRICS statement on World TB Day 2014.
High-Level Advocacy
The Stop TB Partnership's Executive Secretary, Dr Lucica Ditiu, regularly conducts high-level outreach to key global decision makers to illustrate the need to adequately invest in tuberculosis. As a global partnership uniting more than 1000 members, high-level advocacy plays a critical role and is a core function of our work. From meeting with Heads of State, addressing Parliamentarians to attending Finance Ministers Meetings, the Stop TB Partnership and its Executive Secretary has a unique role in ensuring tuberculosis stays high on the global agenda, and that both international assistance for tuberculosis and domestic financing remain a top priority for governments.
In This Section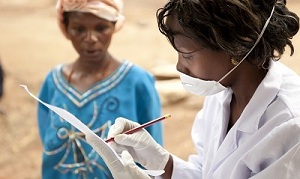 Contact Information
Greg Paton,
Team Leader - Advocacy
gregp[at]stoptb.org
Karishma Saran,
TB Policies Officer
karishmas[at]stoptb.org
Advocacy Resources