Ensuring Adequate TB Financing
The Global Fund and TB Financing
The Stop TB Partnership works closely with the Global Fund to Fight AIDS, Tuberculosis and Malaria and its partners to ensure the Global Fund's tuberculosis grants have the maximum impact. The Partnership worked closely with its global network to build support for the Global Fund's Fourth Replenishment Conference on 3 December 2013, where donors pledged US $12 billion for the period 2013-2016 - the largest amount committed to date in the fight against AIDS, TB and malaria.
The Partnership also works closely with the Global Fund Board committees on policy, strategy and financing decisions to leverage additional TB resources for countries. In May 2014, the Partnership entered into a new agreement with the Global Fund to support demand-based technical assistance to support countries as they develop their concept notes under the Global Fund's new funding model. Other examples of our engagement include:
Working with partners to increase the proportion of Global Fund financing available for TB.
Successfully advocating for a new policy that countries with high rates of HIV/TB co-infection must submit a unified application for HIV/TB.
Promoting Global Fund investments to address TB among Mining Populations in the Southern Africa region.
Training TB community representatives and building their capacity to participate in the development of Global Fund grant applications.
Representing the TB community on the Global Fund's Strategy, Investment and Impact Committee (SIIC).
Ensuring TB is in the Post 2015 Goals
The Millennium Development Goals (MDGs) encapsulate eight globally agreed goals in the areas of poverty alleviation, education, gender equality and empowerment of women, child and maternal health, environmental sustainability, and reducing HIV/AIDS, TB and Malaria. With these goals set to expire at the end of 2015, the UN has begun a process to determine the design, scope, and themes for a post-2015 development framework. This framework will be negotiated by governments during 2014-2015, culminating in their agreement at the September 2015 UN General Assembly.
In parallel, UN member states are also developing a series of 'Sustainable Development Goals (SDGs) in follow up to the UN Conference on Sustainable Development (Rio+20), held in Rio de Janeiro in June 2012.
The Stop TB Partnership is working to ensure the voice of its partners are included in these processes, and is closely monitoring development in order to keep our partners informed and engaged.
Domestic Financing
The World Health Organization (WHO) and the Global Fund estimate that there is an annual funding gap for tuberculosis interventions of US$ 1.6 billion during 2014- 2016. WHO estimates that if the funding gap is filled, it could enable full treatment for 17 million TB and MDR-TB patients and save 6 million lives during the next three years.
Domestic funding could increase progressively especially among lower-middle income and upper-middle income countries through to 2016. With the exception of low-income countries, most countries should have the capacity to meet a large share of their TB funding requirements through domestic sources.
This is why the Stop TB Partnership is working with its member and partners to support engagement with governments to increase their domestic financing for health and fill the tuberculosis funding gap. In addition to supporting work on the economic case for investing in TB, we also engage with Finance Ministers to raise awareness on the cost savings of investing in TB.
In This Section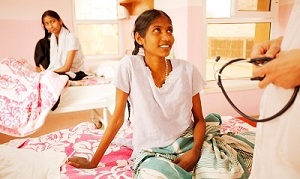 Contact Information
Greg Paton,
Team Leader - Advocacy
gregp[at]stoptb.org
Karishma Saran,
TB Policies Officer
karishmas[at]stoptb.org
Advocacy Resources