What is the GDF?
The GDF is not a traditional procurement mechanism. It has adopted a new perspective on TB drug procurement, by linking demand for drugs to supply and monitoring, using product packaging to simplify drug management and linking grants to TB programme performance. The GDF provides a unique package of services, including technical assistance in TB drug management and monitoring of TB drug use, as well as procurement of high-quality TB drugs at low cost.
The mission of GDF is to facilitate worldwide, equitable access to tuberculosis medicines and diagnostics. Under the current Stop TB's Operational Strategy GDF's work is driven by three strategic objectives:
Shape the market: GDF works with suppliers, donors and other stakeholders to ensure the availability of quality-assured and sustainably priced products that respond to market needs.
Facilitate access to innovative medicines and diagnostics: GDF provides technical assistance to facilitate the introduction and uptake of innovative medicines and diagnostics in client countries.
Provide best-in-class procurement services for tuberculosis medicines and diagnostics: GDF ensures that clients have access to the quality-assured products they need - when they need them.
It was created in response to difficulties experienced by countries in the 1990s in finding and funding stable quality-assured TB medicines.
Nowadays GDF works to ensure an uninterrupted supply of quality-assured, affordable anti-TB drugs and diagnostics to population in need.
GDF operates a unique pool procurement system responding to the main barriers to quality-assured TB medicines access with:
Quality Control: Quality-assured products which meet WHO's stringent standards
Standardization: Individual patient blister packs for easy administration
Pool procurement: Rapid drug delivery times
Transparency: Web-based tracking of orders
Procurement & Supply management: In-country technical support on drug management, registration and supply issues
The GDF also developed an application process that is simple and quick. Both governments and non-governmental organizations (NGOs) in collaboration with the respective Ministries of Health are able to apply for GDF assistance. Countries simply complete an application that includes information on TB drug needs, the national TB programme's strategy and a description of the procurement and supply chain management.
In This Section
Quick Links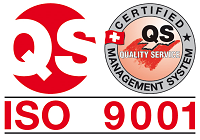 GDF is ISO 9001:2015 compliant for the provision of quality assured anti-TB drugs and related services to eligible national TB control programmes.