GDF Suppliers
Suppliers are engaged in line with WHO's Rules and Regulations on public procurement and GDF's stringent Quality Assurance policy. GDF conducts procurement processes that ensure fairness, transparency, affordable prices, quality and security of supply.
Sourcing Policy
Suppliers newly approved by GDF can become eligible for long-term contracts in regular intervals through competitive processes conducted by GDF's appointed Procurement Agent. For products in short supply, variations may apply.
The supplier management concept implemented by GDF's Procurement Agent is based on awarding up to four LTAs per product, with established bandwidths of potentially realizable business. These bandwidths are set as a percentage of the projected annual product business volume, according to a supplier's ranking following the outcome of a competitive bidding process conducted by the Procurement Agent.
In addition, within the scope of the above bandwidths, the Procurement Agent holds competitions from time to time among relevant LTA holders for individual purchase orders. These competitions are based on price (LTA price or lower), lead time, registration status and supplier performance. Suppliers may quote lower prices than relevant LTA prices at any time, however in the understanding that this establishes a new price ceiling, valid for all upcoming orders under an LTA.
2018 GDF FIRST ANNUAL TB DIAGNOSTICS SUPPLIERS MEETING
Stop TB Partnerships' GDF held its first ever annual TB diagnostics suppliers meeting in Lisbon, Portugal on June 5-6, 2018.
The meeting brought all key partners together to share the latest updates and experiences on the procurement and supply of TB laboratory commodities and services. Also, the meeting served as a valuable platform to strengthen collaboration between GDF and its supply partners to identify solutions to more effectively meet the needs of countries and ensure sustainable access to affordable TB products.
2018 GDF ANNUAL MEETING OF TB MEDICINES MANUFACTURERS
Stop TB Partnerships' GDF TB Medicines Manufacturers Meeting unites TB medicines manufacturers, GDF appointed procurement agent and service providers, with the objective to collectively discuss the current procurement situation, analyze the past performance, build partnership and inform about the market outlook for the future.
This meeting is a forum and platform to share the experiences, contribute ideas and move forward with improvement of the existing procurement processes.
In This Section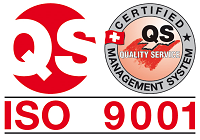 GDF is ISO 9001:2015 certified for the provision of quality assured anti-TB drugs and related services to eligible national TB control programmes.