GDF Services
The Direct Procurement (DP) service enables clients to use their own resources to procure quality anti-TB drugs and diagnostics equipment, through a reliable procurement agent, at prices that will result in considerable savings.
The Grant service is a mechanism whereby adult and paediatric first-line anti-TB drugs are granted to approved countries and nongovernmental organizations (NGOs) to support DOTS expansion and sustainability of nationwide coverage in countries that don't have sufficient finances for their drug needs and who lack adequate procurement capacity, including a robust quality assurance system.
In This Section
Quick Links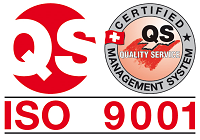 GDF is ISO 9001:2015 certified for the provision of quality assured anti-TB drugs and related services to eligible national TB control programmes.