Stop TB Partnership at the 46th Union World Conference on Lung Health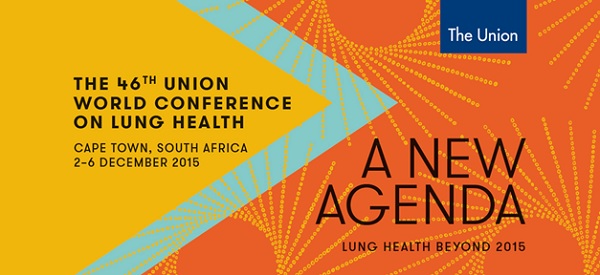 The 46th Union World Conference on Lung Health will take place from the end of November to the 6th December 2015 in Cape Town, South Africa. The Union Conference is the world's pre-eminent platform for announcing new scientific research on tuberculosis and other leading lung diseases affecting people living in poverty. The Stop TB Partnership, together with its partners, will be hosting and participating in a number of meetings and events over the week.
Below, we highlight a selection of the events which are taking place and we think are very important to attend. For the full list see the Union website.
Sunday 29 November
9:00 AM - 6:00 PM: Stop TB Partnership Coordinating Board Meeting
The Stop TB Partnership's 27th Coordinating Board Meeting. Closed session.
Stop TB Partnership
Evening reception: Global TB Caucus, Kochon Prize & Stop TB Partnership Coordinating Board Gala Dinner
Global TB Caucus of Parliamentarians & the Stop TB Partnership Coordinating Board Gala Dinner will see the presentation of the Kochon Prize 2015. The Kochon Prize is awarded annually by the Stop TB Partnership to individuals or organizations that have made a significant contribution to fighting TB. By invitation only.
Stop TB Partnership
Monday 30 November
9:00 AM - 5:00 PM: TB infection control sub-group Core Group meeting
The public call during the high level press event will call for the Global Plan's endorsement and commitment by countries. It will be opened by Minister Motsoaledi, Minister of Health of South Africa and Chair of the Stop TB Partnership Coordinating Board.
TB infection control sub-group
12:00 - 2:00 PM: Press Event: Endorsement of the Global Plan to End TB 2016-2020: The Paradigm Shift
Stop TB Partnership
2:00 - 6:00 PM: Global TB Summit Conference
Delegates will discuss what they can do collectively and individually to tackle the TB epidemic and take a decision on the future of the Global TB Caucus.
Global TB Caucus
Global Launch: 10th Annual Report on Tuberculosis Research Funding Trends
This report will present an in-depth overview of global funding for TB research based on the latest 2014 data.
Treatment Action Group (TAG) and Stop TB Partnership
Tuesday 1 December
9:00 AM - 5:00 PM: 4th Meeting of the GDI Core Group
Global Drug-Resistant Initiative
9:00 AM - 5:00 PM: GLI Core Group Meeting
Global Laboratory Initiative
Wednesday 2 December
10:00 AM - 6:00 PM: WHO Global TB Symposium
Beyond 2015: ramping up to end TB is the theme for this year. This year, the symposium focuses on key stakeholders and their collective actions to revamp and intensify their efforts to meet new End TB targets.
WHO
Thursday 3 December
9:00 AM - 12:00 PM: Monitoring & Evaluation in Active Case Finding: The Stop TB Partnership Approach
This workshop will explain the TB REACH monitoring and evaluation framework, including the concept of 'additional notifications / additionality' - the capacity of an case finding intervention to increase TB diagnosis, treatment and reporting above and beyond what was recorded in a defined baseline period. It will be co-hosted with Mott MacDonald and the Royal Tropic Institute (KIT). Registration via The Union website is required.
Stop TB Partnership
9:00 - 6:00 PM: Access to TB medicines beyond 2015: The dynamics of demand and supply
Stop TB Partnership's Global Drug Facility
9:00 AM - 12:00 PM: Workshop: Application of programme guidelines for community-driven projects to eliminate TB among migrants
For more information see here.
Global TB Caucus
9:00 AM - 12:30 PM: Annual Meeting of the Working Group on New Diagnostics
Secretariat of the Working Group on New Diagnostics
12:00 - 2:00 PM: Improving Access to Appropriate Pediatric TB Medicines
This session will bring together stakeholders from the field of pediatric TB to galvanize the action needed to speed adoption of new, appropriate child-friendly treatments. Find the e-invitation here and the full agenda here.
TB Alliance, WHO, Stop TB Partnership, UNITAID and partners
2:00 - 6:00 PM: PPM Core Group Meeting
Public Private Mix Subgroup
Time TBC: Childhood TB Subgroup Annual Meeting
Childhood TB Subgroup
Friday 4 December
7:45 - 8:45 AM: Turning the Tide on DR-TB: Systematic Action to Improve Treatment Outcomes
Find the details of the symposium here and the abstracts being presented on here.
Lilly MDR-TB Partnership
9:00 - 10:30 AM: Launch of the Out of Step: TB Policies in 24 Countries Report
The Stop TB Partnership and MSF will jointly launch the report From Policies to Action: Smashing the Status Quo
Stop TB Partnership & MSF
9:00 - 6:00 PM: TB prevention and control in conflict affected countries
Global Fund to Fight AIDS, TB & Malaria and IOM
6:00 - 8:30 PM: Scale Up to Get Down to Zero: TB deaths, new infections and suffering
This symposium will focus on efforts to scale-up research, access, and political will in support of a comprehensive package of care.
Treatment Action Group (TAG), Stop TB Partnership, Treatment Action Campaign, Partners in Health and Harvard Medical School
Saturday 5 December
3:30 - 5:00 PM: Community Systems Strengthening: Building the evidence for impact
This symposium will bring civil society, national TB programmers, as well as donors together to discuss the status of community systems strengthening in TB, confer on the evidence and deliberate on ways forward to demonstrate the effectiveness of innovative community systems initiatives as part of a comprehensive response to TB.
Stop TB Partnership
5:30 - 8:00 PM: The revival of an old tool in the post-2015 agenda: The role of chest x-ray in modern TB care delivery
The session will present a number of developments from the field and discuss the role chest x-ray can play in achieving the End TB Strategy targets. Please RSVP: tbreach@stoptb.org
Stop TB Partnership
5:30 - 8:30 PM: Annual Meeting of the Working Group on New Drugs
Secretariat of the Working Group on New Drugs
Sunday 6 December
12:30 - 2:00 PM: Innovative approach to improving access and quality of care for DR-TB: implementing the ECHO telehealth model
This session will explore the innovative role of telemedicine in improving care for drug-resistant TB.
Stop TB Partnership
12:30 - 2:00 PM: Moving past clinic-based care: practical steps to improve TB care through community engagement
The session will present a number of concrete examples of how to harness the power of people and groups outside the traditional health sector and will provide a forum for discussing how the TB community can further expand its community engagement efforts in the post-2015 agenda. Open attendance.
Stop TB Partnership