Who are our partners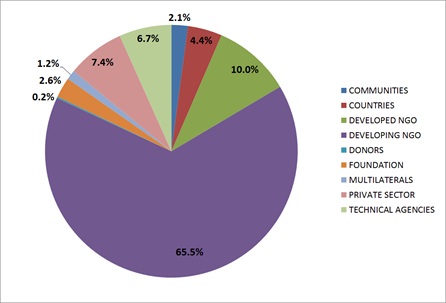 As of September 2013, our partners are 1079 registered organizations in the Stop TB Directory of Partners. Nongovernmental organizations (NGOs) constitute 75% of partners. Roughly 85% of these NGOs are based in developing countries with the remaining 15% originating in industrialized ones. Eight per cent of our partners are from the private sector, and only 2% are from the communities.
The greatest numbers of partners are in the African and South East Asian regions, constituting 37% and 24% respectively. The regions with the least number of partners are the Western Pacific, European and Americas regions. Countries with the highest number or partners are India, Nigeria, the USA, Pakistan and Ghana due to the wide presence of civil society organizations.
Advocacy, communication, social mobilization and community engagement are the most common areas of activity, with 30% of partners specializing in these fields. Twenty-one per cent focus on delivering health services and care, while smaller proportions of partners focus on technical assistance, research and development, funding and the provision of drugs, diagnostics and commodities.
Twenty-six percent of partners contribute to DOTS expansion and enhancement through raising awareness about TB and involving and strengthening communities. Twenty-four percent work on TB/HIV, 17% work on new TB drugs, diagnostics and vaccines, 13% work on MDR-TB and another 13% are involved in research.
The most common reasons for joining the Partnership is involvement in the Stop TB Working Groups and other initiatives (38%), network with other partners (26%) and information on developments within the TB world (16%). The least mentioned reasons for joining are technical assistance and advice (8%) and resource mobilization (8%).
The role of the Stop TB Partnership Secretariat is to facilitate, catalyse and coordinate among its partners. It focuses on strengthening support to all current and future partners, working groups and other partnership bodies. It identifies shared opportunities, most effective ways to sustain and expand partners' engagement and create platforms for interaction and collaboration.
To ensure we are fulfilling our role in the best way possible and as required by our operational strategy we conduct an annual survey of feedback from partners to evaluate their satisfaction with the services and support provided by us at the Secretariat.
Read about the level of satisfaction with the services and support provided by the Secretariat as well as feedback and suggestions in the reports of the survey conducted.


You can also find information about each partner in the Stop TB Directory of Partners. This is a web-accessible repository of information related to our partners. By looking at each partners' profile, you will be able to read about their main activities, their geographical reach, their area(s) of specialization and their contribution to the Global Plan to Stop TB. You can search the Directory using different search criteria from the country in which the headquarters is based to the constituency and specialization. You can also conduct multiple criteria searches that allow you to identify the partners of your interest. At the end of the search, you can export your search results to an excel file.